January - February - March 2007 Progress Report
Charitable Trust is a Win-Win for Professor & Wife
Dr. Bhagawandas P. Lathi, who retired a few years ago from a 39-year career as a professor of electrical engineering, is convinced that ìAlmost anyone in the Indian community can benefit from using a charitable remainder trust.î

Charitable remainder trusts allow donors to sell stock, real estate and other assets tax-free, and to benefit good causes at the same time. Dr. Lathi and his wife Rajani, who live in Carmichael, a suburb of Sacramento, California, are co-trustees of their own charitable remainder trust which they established in 2001. They used the trust to sell the publishing rights to two of Dr. Lathiís books to Oxford University Press. ìIt was a win-win situation for everyone,î he said.

Clearly two of the biggest winners were Hinduism Today and the India Development Relief Fund, which will receive equal shares of whatever remains in the trust after 20 years from the foundation date (thatís 2021.) But the Lathis won as well. The use of the trust allowed them to bypass all tax on the $600,000 sale price for the publishing rights, to receive an immediate income-tax deduction, and to become the income beneficiaries of the charitable trust for 20 years. The income from the trust supplements their retirement plan.

ìHinduism Today has done a good job of defending the Hindu religion from outside attacks, as well as explaining it,î Dr. Lathi said, describing why he chose the magazine to benefit from their trust. ìWe deeply value the Hindu tradition of letting people worship in their own ways for reaching the ultimate reality, eschewing proselytization and hegemony,î he emphasized. ìThatís a message that Hinduism Today underscores.î He bristles at the use of the word tolerance in interreligious discussion, declaring, ìTolerance implies youíre putting up with an inferior position.î

Of the two books with which the Lathis funded their trust, Linear Systems and Signals offers a 940-page development for undergraduates of signals as well as systems to process signals. This important area encompasses applications in such diverse fields as speech and image processing, satellite and space communication, biomedical systems, and aerospace, automotive and industrial applications. The Internet, cell phones, satellites and other electronic devices use signal processing routinely to transmit everything from text messages between teenagers to images from Jupiter.

Dr. Lathi, who is Professor Emeritus of Electrical Engineering at California State University, Sacramento, considered using a charitable remainder trust after attending a seminar on the subject and consulting with his attorney. ìI suggest that people look at the charitable remainder trust very carefully,î he urged. ìIt is a valuable philanthropic and estate-planning tool that has worked well for us.î

The Hindu Heritage Endowment is pleased to enroll Dr. Bhagawandas P. and Rajani Lathi as members of its Legacy Sangha, which honors those who have included HHE in their estate plan. For information on bequests, charitable trusts and other estate-planning tools, contact Swami Shanmuganatha at 808-822-3012 extension 244 or hhe@hindu.org.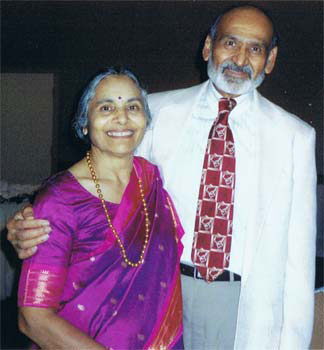 July to September Endowment Contributions
Kauai Aadheenam Monastic Endowment
Darmaguhan Satgunasingam
US$75.00
Ajay & Lata Shah
5,000.00
Other Donations
29,427.01
Total
34,502.01
Iraivan Temple Endowment
Anonymous
200.00
Roger Brown
120.00
Sarojini Elangovan
101.00
Sivamayam Gunaratnam
145.00
Victoria Lynne Johnson
30.00
Diksha Katir
42.00
Ushadevi Katir
42.00
Nathan Mudrick
108.00
Pathmini Murugesan
10.00
S.V. Ravi Rahavendran
1,002.00
Sheela Rahavendran
151.00
Payal Sehgal
20.00
Jnana Sivananda
150.00
Rakesh Sood
125.00
Gunavinthan Siva Thirumalai
80.00
Thanavinthan Siva Thirumalai
40.00
Other Donations
27,634.00
Total
30,000.00
Kauai Aadheenam Annual Archana Fund
Yatrika Ajaya
53.63
Priya Alahan
1,000.00
Sivanathan Batumalai
13.42
Gunavadee Caremben
2.40
Somasundaram Caremben
2.40
Sukanta Caremben
2.40
Ravichandran Ceyon
82.00
Ashish Suresh Chitnis
925.00
Umaiyal Devasegayam Family
53.69
Tarakini Gunasegaran
47.45
Carmel V. Hawn
320.00
Roman Hunt
108.00
Victoria Lynne Johnson
10.00
Amooda Koothan
7.99
Saravan Koothan
3.20
Saroja Devi Manickam
4.50
Navukarasu Muthusamy
13.42
Pushparajan Nesaratnam
40.21
Kirtideva Peruman
9.57
Niroshnee Peruman
14.34
Mogan Ramasamy
275.00
Akileiswaran Samuthiran
12.10
Jayasutha Samuthiran
15.12
Bilvashri Seyon
27.13
Guhan Seyon
27.13
Premah Seyon
27.13
Jiva Shanmuga
100.00
Devaladevi Sivaceyon
10.77
Nutanaya Sivaceyon
10.77
Patudeva Sivaceyon
10.77
Hemavalli Sivalingam
2.44
Kanta Ruban Sivalingam
2.44
Rohini Sivalingam
2.44
Potriyan Sivanathan
5.38
Total
3,242.24
Hinduism Today Lifetime Subscription Fund
Subramaniam & Family
94.95
Sujeet Akula
160.00
Brian Breiling
240.00
Ravichandran Ceyon
41.00
Ashish Suresh Chitnis
1,000.00
Maruthu Pandian Darmalingam
140.75
Carmel V. Hawn
320.00
Isanah Kameni
27.00
T. Iswarah Kumar
71.00
Shankar & Sri Mallampalli
800.00
Dimple Patel
800.00
Shanta Devi Periasamy
90.00
H.K.S. Rao
800.00
Charles & Jan Roberts
30.00
Jacob Russell
240.00
Sothinathan Sabesan
240.00
Irene Scott
269.00
Adi Seyon
54.26
Nalayini Shanmugarajah
240.00
Om Prakash Sharma
800.00
Sivakanthan Sivanathapillai
800.00
S. & Santhi Subramaniam
217.04
Shreekant Tripathi
800.00
Rakesh Vaidyanathan
160.00
Total
8,435.00
Hindu of the Year Fund
Anonymous
10.33
Boys School for Iraivan Priesthood
Maruthu Pandian Darmalingam
13.50
Bala Sivaceyon
43.08
Total
56.58
Kauai Aadheenam Matavasi Medical Fund
Maruthu Pandian Darmalingam
13.50
Sarasvathi Iswarapatham
40.71
Arul Karttikeya
350.00
Pathmini Murugesan
10.00
Gowri Nadason
82.52
Vayudeva Varadan
72.00
Other Donations
6,300.00
Total
6,868.73
Iyarappan Temple Trust
Nathan Mudrick
108.00
Tirunavukkarasu Nayanar Gurukulam
Muthukumar Jeyabalan
30.00
Muthu Kumar
40.00
Total
70.00
Kumbhalavalai Ganesha Temple Endowment
Manoharan Navaratnarajah
75.00
Malaysia Hindu Renaissance Fund
Devdatta & Swati Mhaiskar
12.63
Hinduism Today Production Fund
A. Melwani
1,000.00
Murli Melwani
1,000.00
Devdatta & Swati Mhaiskar
12.62
Total
2,012.62
Hindu Orphanage Endowment Fund
Adi Alahan
14.00
Anil Anand Badhwar
72.40
Michael Mrakovcic
14.29
Natraj Narayanswami
45.00
Sai Pavuluri
18.75
Anonymous
10.34
Alex Ruberto
75.00
Payal Sehgal
20.00
Rodney & Ilene Standen
30.00
Raja Vishnu
22.00
Total
321.78
Hindu Education Endowment
Natraj Narayanswami
20.00
Hindu Press International Endowment Fund
Hiranya & Saraswathi Gowda
21.00
Baleswary Selvarajah
5.00
Total
26.00
Loving Ganesha Distribution Fund
Eric Jautee
50.00
Devdatta & Swati Mhaiskar
12.62
Manoharan Navaratnarajah
75.00
Gassa Patten
1,640.00
Total
1,777.62
Manitha Neyam Trust Fund
Richard Ksieniewicz
35.00
Bala Sivaceyon
43.08
Total
78.08
Spiritual Park of Mauritius Endowment
Devdatta & Swati Mhaiskar
12.63
Positive Discipline Endowment
Vinaya Alahan
4,000.00
Devdatta & Swati Mhaiskar
12.63
Total
4,012.63
Kauai Aadheenam Religious Art and Artifacts Fund
Rajadeva Alahan
153.00
Murugan Temple Pillaiayar Shrine Fund
Pathmini Saravanapavan
50.00
Thank You Bodhinatha Fund
Anonymous
20.00
Hotranatha Ajaya
51.00
Durvasa Alahan
100.00
Marlene Carter
600.00
Ashish Suresh Chitnis
2,001.00
Shyamadeva Dandapani
101.00
Tina Desai
101.00
Chellappa Deva
51.00
Amarnath & Latha Devarmanai
324.00
Lila Shakti Devi
101.00
Toshadeva Guhan
108.00
Shama Kumaran
51.00
Shankar & Sri Mallampalli
504.00
Sadhunathan Nadesan
1,008.00
Manoharan Navaratnarajah
150.00
Janaka Param
108.00
Shanta Devi Periasamy
1,245.00
S.V. Ravi Rahavendran
501.00
Alex Ruberto
45.00
Aran Sambandar
51.00
Payal Sehgal
20.00
Dasa Sivam
108.00
Jutikadevi Sivaraja
40.00
Devi Tandavan
1,008.00
Jeremiah Umakanthan
126.00
Vayudeva Varadan
161.00
Total
8,684.00
Mathavasi Travel Fund
Rakesh Sood
125.00
Saivite Hindu Scriptural Fund for the Visually Impaired
Natraj Narayanswami
25.00
Alex Ruberto
45.00
Total
70.00
Sri Chandra Madhab Debnath Endowment
Shyamal Chandra Debnath
200.00
Murugan Temple Yalpanam Festival Fund
Pathmini Saravanapavan
50.00
Tiptur Shiva Temple & Youth Hostel Fund
Payal Sehgal
20.00
Kerala Temple Trust
Sai Pavuluri
18.75
Kapaleeshwara Temple Orphanage
Kumar Bhagavatula
50.00
Prasad Krishnan
7.50
Richard Ksieniewicz
35.00
Auslin Mangal Lawrence
150.00
Devdatta & Swati Mhaiskar
12.62
Michael Mrakovcic
14.28
Jayanthi Vasudevan Naiker
300.00
Natraj Narayanswami
20.00
Total
589.40
Manjung Hindu Sabha Orphanage Fund
Muthukumar Jeyabalan
110.00
Muthu Kumar
40.00
Michael Mrakovcic
14.28
Total
164.28
Pazhassi Balamandiram Orphanage Fund
Michael Mrakovcic
14.28
Natraj Narayanswami
20.00
Total
34.28
Karnataka Temple Development Fund
Ishani Chowdhury
31.00
Sai Pavuluri
18.75
Total
49.75
Sri Ganesha Hindu Temple of Utah Endowment Fund
Sukesh Parasher
50.00
Sai Pavuluri
18.75
Total
68.75
Swami Vipulananta Childrenís Home Endowment
Michael Mrakovcic
14.29
Hinduism Today Complimentary Subscription Fund
Anonymous
10.33
Himalayan Academy Book Distribution Fund
Devdatta & Swati Mhaiskar
12.62
Kauai Aadheenam Yagam Fund
June P. DeLuca
101.00
Victoria Lynne Johnson
10.00
Vijay N. Samant
100.00
Sivakumar Saravan
500.00
Payal Sehgal
20.00
Total
731.00
Yogaswami Hindu Girlsí Home of Sittandy Endowment
Anonymous
33.00
Adi Alahan
6.00
Maruthu Pandian Darmalingam
13.50
Lila Shakti Devi
150.00
Mary Beth Harnett
1,500.00
Muthukumar Jeyabalan
90.00
Muthu Kumar
40.00
Ripla & Gaurav Malhotra
105.50
Devdatta & Swati Mhaiskar
12.63
Michael Mrakovcic
14.29
Natraj Narayanswami
50.00
Ananthakumar Renganathan
50.00
Jutikadevi Sivaraja
309.00
Silas H. Zirkle
375.00
Total
2,748.92
Siva Poomi School Trust
Muthu Kumar
40.00
Yogaswami Hindu Boysí Home Fund
Jnanideva Cevvel
530.00
Maruthu Pandian Darmalingam
13.50
Mary Beth Harnett
1,500.00
Muthukumar Jeyabalan
90.00
Muthu Kumar
40.00
Ripla & Gaurav Malhotra
105.50
Michael Mrakovcic
14.29
Ananthakumar Renganathan
50.00
Dharmalingam Siddhan
150.00
Total
2,493.29
Total Contributions
$107,969.54
Funds at Market Value, Sept. 30, 2006
Total Endowment Funds
$7,250,988.41
Total Pooled Income Funds
$211,456.23
Grand Total
$7,462,444.64

MISSION STATEMENT:
Hindu Heritage Endowment is a publicly supported, charitable organization recognized as tax exempt by the IRS on April 22, 1994. Employer ID 99-0308924. Founded by Satguru Sivaya Subramuniyaswami, its philanthropic mission is to provide secure, professionally managed financial support for institutions and religious leaders of all lineages of Sanatana Dharma.

PROFESSIONAL ADVISORS:
Halbert, Hargrove/Russell, Investment Counsel; Alvin G. Buchi-gnani, Esq., Legal Counsel; and Sonoda & Isara, LLP, CPA; Phil Murphy, Planned Giving Specialist. HHE is a member of the Council on Foundations, an association of more than 2,000 foundations which interprets relevant law and management and investment principles, and of the National Committee on Planned Giving, the voice and professional resource for the gift planning community

I want to participate. Where should I Send My Donation?
You can send your gift to an existing fund, create a new Endowment or request information through the address below.
Donations may be made online at www.hheonline.org or use the HHE tear-out card in the HINDUISM TODAY magazine to join our family of benefactors who are Strengthening Hinduism Worldwide. Thank you.


Hindu Heritage Endowment
107 Kaholalele Road
Kapaa, Hawaii 96746-9304 USA
Phone : (808) 822-3012 ext.244
Fax: (808) 822-4351
E-mail : hhe@hindu.org


Becoming a Benefactor of Hinduism Today. If you are keen to give an added moral boost to the Production Fund while giving financial support, please consider becoming a Benefactor of Hinduism Today.

One becomes a Benefactor simply by donating $1000 or more to the Fund as a gift outright or by making the fund a beneficiary in one's estate plan by the same amount. Learn more about becoming a Benefactor.