Halbert Hargrove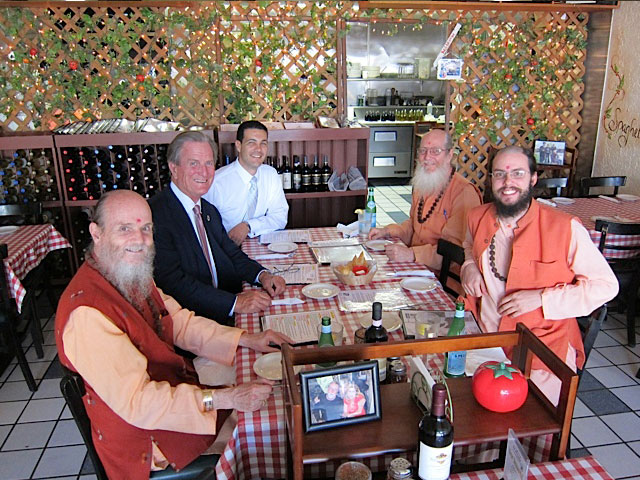 In January, 2011, the Centre for Fiduciary Excellence, LLC, in Toronto, Ontario, Canada, certified Halbert Hargrove to the standard described in the handbook "Prudent Practices for Investment Advisors." Halbert Hargrove is among the first Investment Advisors globally to successfully complete the independent certification process.
The majority of investments are overseen by Halbert Hargrove—a Registered Investment Advisory firm, headquartered in Long Beach, California, focused on providing wealth advisory and investment services to high net worth individuals, foundations, and endowments.
Halbert Hargrove are independent wealth advisors and consultants with deep, constructive ties to research, market and technology-driven organizations. Their strategic approach is rooted in an investment philosophy developed through decades of experience in the markets, and in comprehensively managing wealth for institutional and individual clients.
Asset Allocation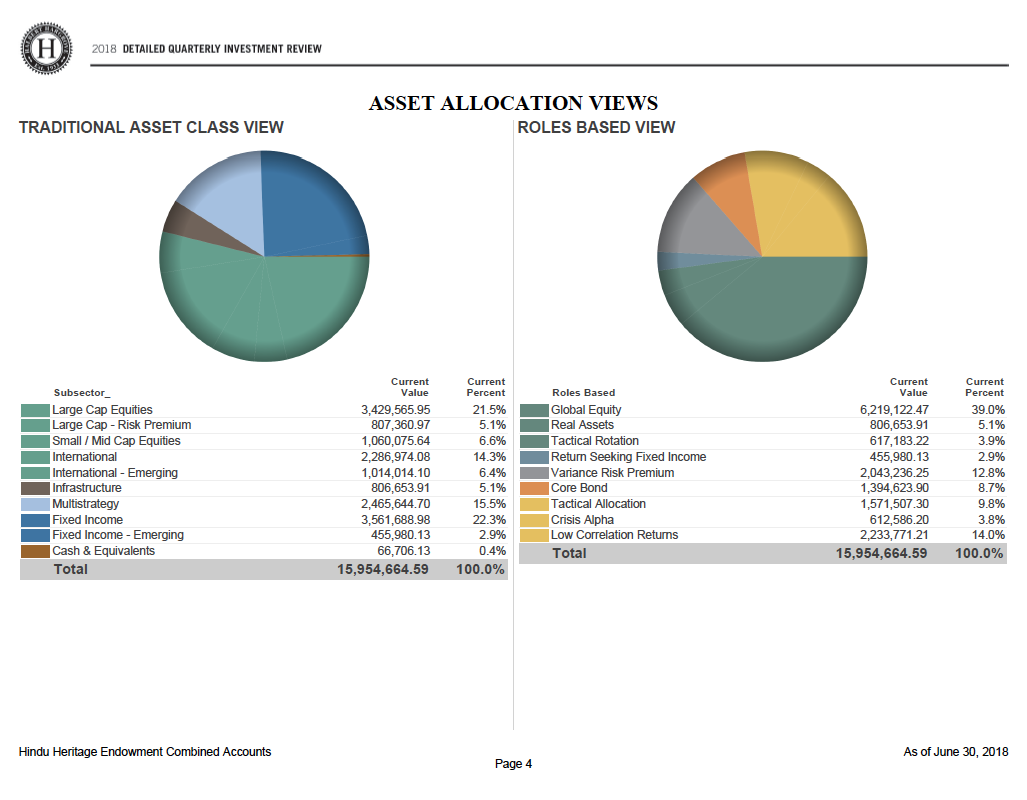 Investment Returns Compared to A Morningstar Benchmark
To understand the investment returns of an endowment such as Hindu Heritage Endowment, it is helpful to compare it to similar investments. Morningstar, Inc. has a variety of mutual fund category averages. The one that is closest in asset allocation to the Halbert Hargrove portfolio is their World Allocation Fund Category. This is used by many Global Asset Allocation Funds as a benchmark. Morningstar's definition of the World Allocation Category is: "World-allocation portfolios seek to provide both capital appreciation and income by investing in three major areas: stocks, bonds, and cash. While these portfolios do explore the whole world, most of them focus on the U.S., Canada, Japan, and the larger markets in Europe. It is rare for such portfolios to invest more than 10% of their assets in emerging markets. These portfolios typically have at least 10% of assets in bonds, less than 70% of assets in stocks, and at least 40% of assets in non-U.S. stocks or bonds."
End of quarter 2021 September 30th
| | |
| --- | --- |
| Hallbert Hargrove (HHE) | 8.84% |
| Morningstar World Allocation Fund Category | 6.80% |
2021 September 30th
| | | | | |
| --- | --- | --- | --- | --- |
| | One Year | Three Years | Five Years | Ten Years |
| Halbert Hargrove | 19.62% | 7.42% | 7.72% | 7.42% |
| Morningstar World Allocation Fund Category | 18.41% | 6.93% | 7.07% | 6.96% |
Before deducting Halbert Hargrove's advisory fee of approximately .32%.