Halbert Hargrove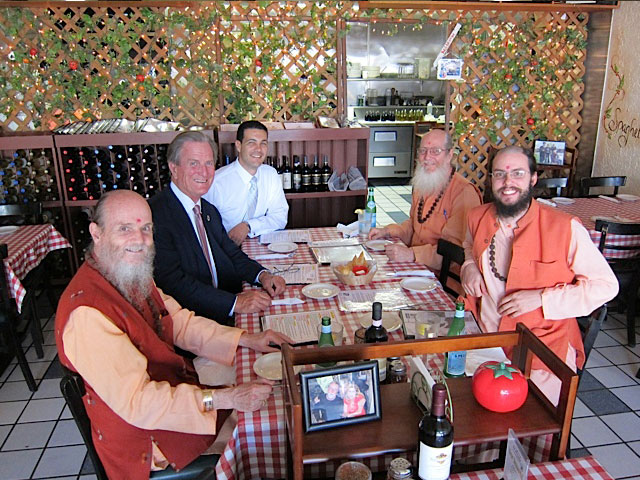 In January, 2011, the Centre for Fiduciary Excellence, LLC, in Toronto, Ontario, Canada, certified Halbert Hargrove to the standard described in the handbook "Prudent Practices for Investment Advisors." Halbert Hargrove is among the first Investment Advisors globally to successfully complete the independent certification process.
The majority of investments are overseen by Halbert Hargrove—a Registered Investment Advisory firm, headquartered in Long Beach, California, focused on providing wealth advisory and investment services to high net worth individuals, foundations, and endowments.
Halbert Hargrove are independent wealth advisors and consultants with deep, constructive ties to research, market and technology-driven organizations. Their strategic approach is rooted in an investment philosophy developed through decades of experience in the markets, and in comprehensively managing wealth for institutional and individual clients.
Asset Allocation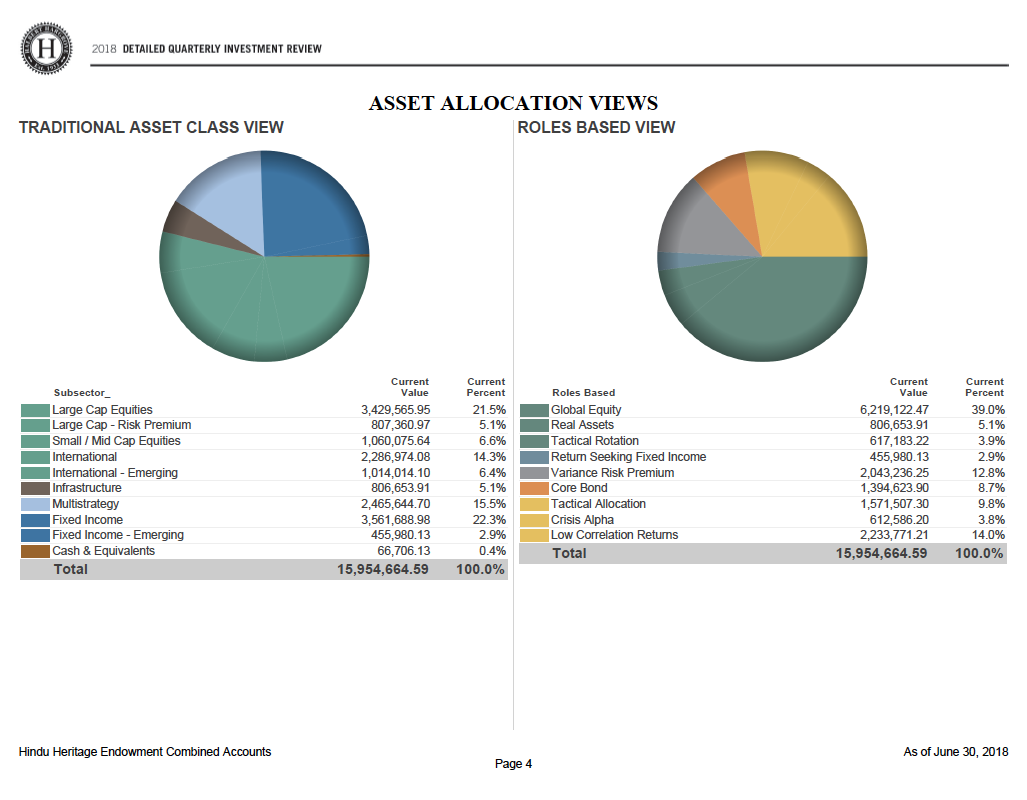 Investment Returns Compared to NACUBO
To understand the investment returns of an endowment such as Hindu Heritage Endowment, it is helpful to compare it to similar investments. The National Association of College and University Business Officers (NACUBO) provides a relevant report once a year, toward the end of January, on the returns of the major university endowments in the United States. The 2018 results are based more than 800 U.S. college and university endowments and affiliated foundations, representing over $616 billion in endowment assets. These institutions' endowments returned an average of 8.2 percent (net of fees) for the 2018 fiscal year (July 1, 2017 – June 30, 2018) compared with 12.2 percent for the 2017 fiscal year. As universities function on a fiscal year of July 1 - June 30, the returns shown are for that period. Despite this year's gain, endowment results have generally been on the decline for much of the past decade. The annualized 10-year average is 5.8 percent from last year's 4.6 percent.
The chart below shows the returns as of June 30, 2018. The comparison chosen for Hindu Heritage Endowment is to endowments under $25 million.
For the one year period July 1, 2017 - June 30, 2018:
Hindu Heritage Endowment 5.37%
NACUBO Under $25 Million 7.60%
For the three year period July 1, 2015 - June 30, 2018:
Hindu Heritage Endowment 4.79%
NACUBO Under $25 Million 6.20%
For the five year period July 1, 2013 - June 30, 2018:
Hindu Heritage Endowment 5.47%
NACUBO Under $25 Million 7.50%