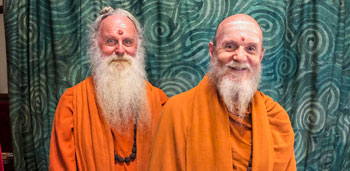 Publisher and Chief Editor: Satguru Bodhinatha Veylanswami (right) and Paramacharya Sadasivanathaswami
Forty years on, our magazine remains true to its mission, informing and inspiring Hindus everywhere. Gurudeva had amazing foresight. At a time when Hindus avoided the word Hindu, Gurudeva championed it—starting with his magazine's very title. Today we still hear Vedic this and Vedanta that, but the trend is definitely toward using the word, boldly and proudly.
In 1979, Hindus isolated in various parts of the world fell victim to unethical conversion practices which Hinduism Today exposed with unrelenting ardor. For decades, it urged the victims to build walls of knowledge and intelligence around themselves while providing them, in every issue, the knowledge and inspiration they needed. Today, the threat is noticeably down.
Since 1979, the major trend has been the Hindu diaspora into all parts of the world. Hindu communities that were isolated became less so. More people came to know Hindus, understanding, respecting, even admiring them. Many have been encouraged by their new countrymen to speak out and share their valuable points of view. In the USA, for example, several Hindus are now serving in Congress.
Many began to teach and actively support their faith. Hindu institutions came up and became prominent, something Hinduism Today encouraged and, to some extent, guided. Today, our editors' ideas are enthusiastically sought for. The India Foundation, for example, an NGO think tank in Delhi, is sponsoring our editor-in-chief to attend a conference on soft power in December of this year.
The rise of soft power is another trend of increasing significance. Soft power is influence expressed through appeal and attraction (i.e., culture, spirituality, music, yoga, etc.) rather than through coercion, or hard power. "We are heartened by this trend, particularly as the government of India is very much at its forefront. It has, for example, established a new Ministry of Ayurveda, Yoga and Naturopathy, Unani, Siddha and Homeopathy—or AYUSH.
And who could forget the riveting moment at the United Nations on December 2014 when prime minister Modi proclaimed June 21 as the annual International Day of Yoga, or the dynamic response 'round the world every year since? Here was amazingly powerful soft power! This new focus of India's will surely create new knowledge, new points of view, approaches and activities that we will need to report on. This is new, and all-around good news.
Another important trend today is the growing number of young people declaring themselves 'spiritual but not religious,' or SBNR for short. Hinduism is a most apt guide for such souls interested in spirituality, and our magazine will be there to address their needs and concerns.
We have continued all along to follow Gurudeva's directive to remain at the forefront of developing technologies. Today, the magazine has a massive presence on the Internet and exists in several digital editions, including a mobile app.
Another global trend is the decline of print periodicals. As wonderful as digital versions are, they cannot produce the same revenue as print subscriptions. Publishing houses are failing or having to consolidate, and we are feeling the same pressure. Today, we have more readers enjoying our digital versions than the printed one and subscription income is dwindling.
Gurudeva anticipated this possibility and established the Hinduism Today Production Fund to eventually keep the magazine fully funded no matter what might happen. The fund's quarterly subsidies are crucial; we need to cover costs, let alone improve the product and foray into more potent technologies. And so, maintaining and growing the Fund is one of the major things we do.
Donate to Hinduism Today Production Fund at: hheonline.org/donate/pf
Ask for our Planned Giving Toolkit by contacting one of our monastic staff at 1-888-464-1008 or hhe@hindu.org.
---
The vision.
The
Hinduism Today Production Fund
was created to enable the magazine to ever more effectively do what it does best:
uplift Hindus and Hinduism everywhere
.
Print and digital editions of HINDUISM TODAY are produced by the monks of Kauai's Hindu Monastery as a public service, not to tell their own story, but to cover the people, events, philosophy and traditions of the broader Hindu world. The monastic staff also direct a skilled international cadre of journalists, artists and photographers who help create the magazine.
Grants from the Hinduism Today Production Fund subsidize a part of each Hinduism Today issue and thus supports its mission of uplifting Hinduism, Hindus and like-minded souls everywhere.
The grants help cover travel expenses and fees for reporters, photographers, researchers and artists. Or they may help send members of our monastic staff to conferences to sharpen their skills in digital publishing and other areas.
The financial goal of the Hinduism Today Production Fund is to build principal to $5 million which will provide a monthly grant of approximately $16,700.
Becoming a Benefactor of Hinduism Today. If you are keen to give an added moral boost to the Production Fund while giving financial support, please consider becoming a Benefactor of Hinduism Today.
One becomes a Benefactor simply by donating $1000 or more to the Fund as a gift outright or by making the fund a beneficiary in one's estate plan by the same amount. Learn more about becoming a Benefactor.