"It's good to have found a source you can trust, especially today amid all the disinformation." Niraj Thaker.
For years, Niraj, a technical project manager in a London bank, has been ordering 20 to 40 copies of each issue that he distributes all around London to individuals, bookstores, grocery stores, temples and libraries. "One day BBC heard about my enthusiasm and interviewed me for a 20-minute spot on the basics of Hindu belief and practice. I had become that knowledgeable," he laughs.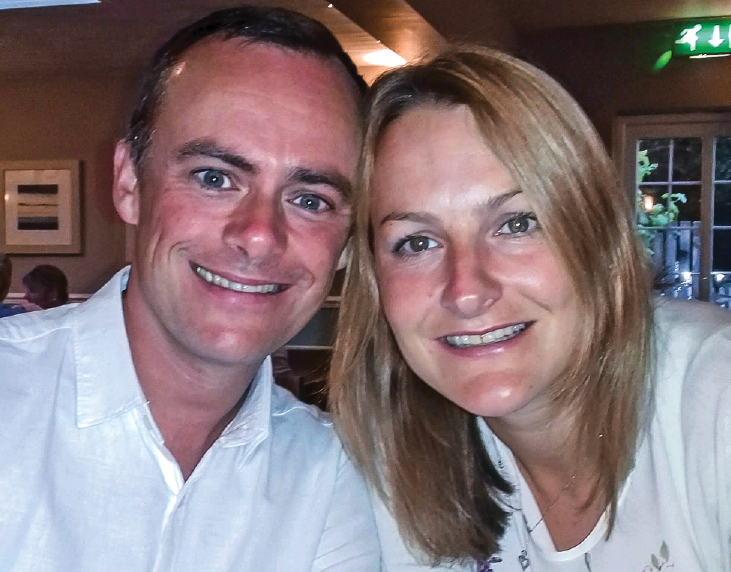 Thom Drinkwater and fiancée Georgina on their engagement day. "Hinduism helps people be kinder."
In 2014, Niraj introduced Thom Drinkwater of Manchester to the magazine. The moment was transforming for Thom, also. He, too, had long been spiritually inclined, but living with urgent, unanswered questions. Thom, 40, is a business development manager for a freight forwarder. "The job has me traveling a lot, which used to be grueling. Now it is my opportunity to listen to audios of Hindu teachings and practice Hindu mindfulness, trying to hold on to the Now, letting go of the irrelevant." At home, Thom does daily sadhana under the guidance of his guru, attends Manchester's Gita Bhavan temple weekly and occasionally dreams of God Siva. "I love Hinduism," he confides. "It helps you become more who you want to be. I am grateful, which is why I like to support Hinduism Today. I know from experience how much it helps people." Niraj and Thom both donate generously to the Hinduism Today Production Fund via a monthly automatic donation.
Donate to Hinduism Today Production Fund at: hheonline.org/donate/pf
Ask for our Planned Giving Toolkit by contacting one of our monastic staff at 1-888-464-1008 or hhe@hindu.org.
---
The vision.
The
Hinduism Today Production Fund
was created to enable the magazine to ever more effectively do what it does best:
uplift Hindus and Hinduism everywhere
.
Print and digital editions of HINDUISM TODAY are produced by the monks of Kauai's Hindu Monastery as a public service, not to tell their own story, but to cover the people, events, philosophy and traditions of the broader Hindu world. The monastic staff also direct a skilled international cadre of journalists, artists and photographers who help create the magazine.
Grants from the Hinduism Today Production Fund subsidize a part of each Hinduism Today issue and thus supports its mission of uplifting Hinduism, Hindus and like-minded souls everywhere.
The grants help cover travel expenses and fees for reporters, photographers, researchers and artists. Or they may help send members of our monastic staff to conferences to sharpen their skills in digital publishing and other areas.
The financial goal of the Hinduism Today Production Fund is to build principal to $5 million which will provide a monthly grant of approximately $16,700.
Becoming a Benefactor of Hinduism Today. If you are keen to give an added moral boost to the Production Fund while giving financial support, please consider becoming a Benefactor of Hinduism Today.
One becomes a Benefactor simply by donating $1000 or more to the Fund as a gift outright or by making the fund a beneficiary in one's estate plan by the same amount. Learn more about becoming a Benefactor.