In Sri Lanka, when children reach Grade Six, one of the school items that is needed is a math/compass set (ruler, pencil, compass, eraser, sharpener in a box). Many families are not able to purchase this small item (valued at $1US) so the children need to use each other's set which is very inconvenient during exam times. This math/compass set is used by the students from Grade 6 to Grade 10 and is a valued part of their instruction supplies.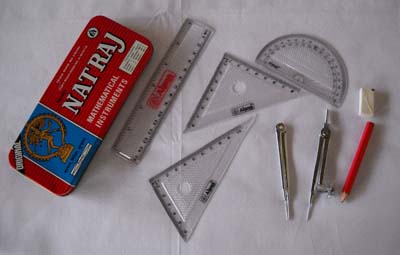 Standard compass set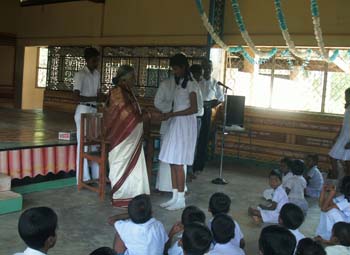 A student receives her set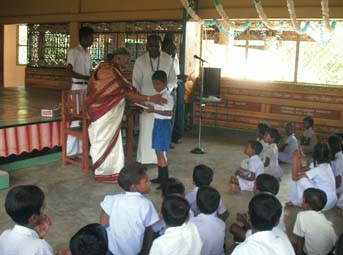 One by one the children come forward
820 students receive the compass set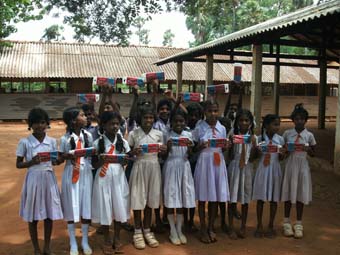 The compass set is a valued gift for these young girls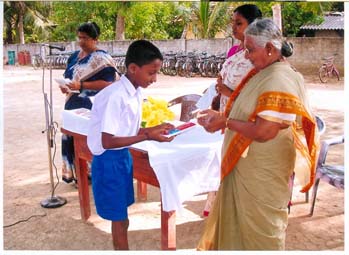 Mrs. Sivalosani Kanagaratnam heads the Kottam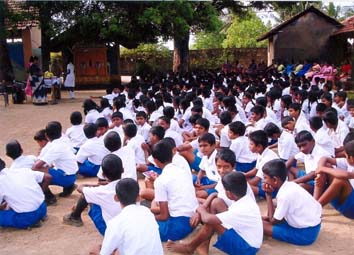 This small gift helps bring joy to these boys and girls
Operation Math Compass is one of the educational projects of the Sri Subramuniya Kottam of Kopay, Sri Lanka. This project is providing a math/compass set to all the less fortunate students who do not have the set. As of October 2010, the Kottam distributed math/compass sets to 820 students in the Jaffna and Kilinochchi districts. This small gift was very much appreciated by the students, their parents and their teachers.
To learn how you can support Sri Subramuniya Kottam Fund through a will, life insurance or other planned gifts, contact Shanmuganathaswami at 808-822-3012, ext. 244 or e-mail hhe@hindu.org. Donate to fund #15 at www.hheonline.org