INDIA ENDOWMENTS ACTIVITY
January - February - March 2003
Puri Monasteries
Hindu Heritage Endowment has established a perpetual fund for the rejuvenation and care of Puri's once-thriving monasteries. Use of the income from the fund will be supervised by Shankaracharya Sri Nischalanand Saraswati and his successors. This year, grants totalling Rs. 2,400 were given.
Kerala Temple Trust Fund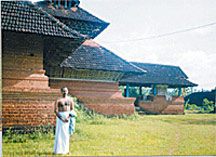 Shubha and Kishore Pathial of Oregon, USA, started fund #50 (present balance of $ 1,783.21) to maintain temples in Kerala that are not under a government-managed temple trust. This year, the Trikkaikunnu Mahadeva Kshetra at Northern Kottayam received its second grant of Rs. 3,840.
Kapaleeshwara Temple Orphanage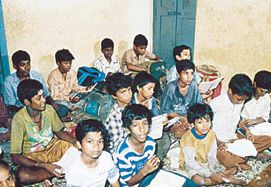 The famed Kapaleeshwara Temple of Chennai has under its auspicesthe nearby Kapaleeshwara Temple Orphanage, which gives religious training for its residents in addition to shelter and meals. HHE offers support to this noble institution with this fund, #52, initiated by Dr. Jayanthi Mukundan of Liverpool. It now has a balance of $1,267.51.
This year the orphanage received Rs. 18,240 of grants.
Udayan Care, New Delhi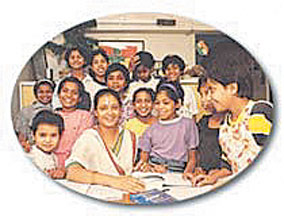 Udayan Care is a New Delhi-based voluntary organisation committed to sustainable social development by running homes for abandoned or orphaned children. Udayan Care fund, #42, has a balance of $4,623.97 and gave Rs. 4,800 of grants this year in support of this noble institution.
Additional information is available at www.udayancare.org.
Pazhassi Balamandiram, Kerala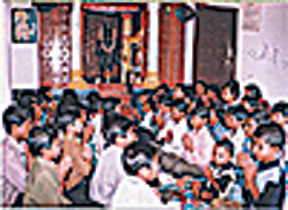 The Pazhassi Balamandiram in Nalloornadu, Mananthavady, which serves more than 30 residents and raises them in Hindu values and traditions, received a second annual grant of Rs. 10,560. The HHE staff is gratified to support this worthy orphanage. It is fund #54 with a balance of $5,193.04.
Other Endowments
Other endowments also received annual grants: 1) Rs. 11,040 to Abirami Amman Temple, Tiru-kadaiyur, which provides a monthly archana on each full moon day, 2) Rs. 11,040 to Iyarappan Temple, Thiruvaiyaru, which sponsors a monthly puja and feeding on Arudra nakshatra day, 3) Rs. 4,320 to the Tirumular Sannidhi in Thiruvavadhuthurai for shrine upkeep, and 4) Rs. 4,320 to Vishwamata Gayatri Trust, New Delhi, of Swami Pragyanand, for general support.
An Alternative To Direct Donations
Normally, when a donor in the USA gives to Hindu institutions in India or another country, and does so directly, he does not qualify for an income tax charitable deduction. If you are in this situation, do consider HHE as an alternative which provides you with a tax deduction, while the institution of your choice still receives the same amount of gift. At the same time, an endowment at HHE would build, providing permanent support for the institution. Write or e-mail for further details. Our representatives in India are Tiru L. Nellaiappan, Chennai, for the South and Srimat Rajiv Malik, New Delhi, for the North. Grants to institutions in India are made through HHE's affiliate organization, Sanmarga Trust India, which provides additional documentation and oversight over the funds.
As a public service, HHE occasionally will offer the opinions of financial planners. However, it endorses neither these advisors nor their counsel, and recommends that all individuals seek professional advice from several sources before making important long-term decisions.
June to August Endowment Contributions
Kauai Aadheenam Monastic Endowment
Stephanie Corgatelli
$ 207.50
Gunasekaran Kandasamy
104.58
Arul Karttikeya
2,401.63
P. Kumar & Shanti Mehta
300.00
Other Donations
6,504.27
Total
9,517.98
Iraivan Temple Endowment
P. Kumar & Shanti Mehta
300.00
Sivadas Sivarajah
40.00
Other Donations
30,000.00
Total
30,340.00
Kauai Aadheenam Annual Archana Fund
Somasundaram Caremben
0.76
Sukanta Caremben
0.76
Yajataceyon Caremben
3.03
Akileiswaran Samuthiran
2.69
Jayasutha Samuthiran
3.76
Devaladevi Sivaceyon
2.61
Nutanaya Sivaceyon
2.61
Hemavalli Sivalingam
0.79
Kantha Ruben Sivalingam
0.79
Rohini Sivalingam
0.79
Javanya Skanda
4.00
Subasene Skanda
4.00
Total
26.59
Hinduism Today Distribution Fund
Total
6,336.10
Hindu Businessmen Association Trust Fund
Vel Alahan
525.00
Paramaseeven Canagasaby
28.48
Vel Mahalingum
13.63
Manogaran Mardemootoo
45.45
Vishwanaden Moorooven
12.12
Easvan Param
617.40
Janaka Param
25.00
Total
1,267.08
Boys School for Iraivan Priesthood
Indra Dhaksinamurthi
45.00
Lloyd Wes Godley
20.00
Bala Sivaceyon
32.39
Total
97.39
Kauai Aadheenam Mathavasi Medical Fund
Gowri Nadason
90.00
Thomas J. Rowe
80.00
Vayudeva Varadan
27.00
Matthew Wieczork
90.00
Total
287.00
Tirunavukkarasu Nayanar Gurukulam
Padmini Saravanapavan
25.00
Aran Sendan
51.00
Total
76.00
Sri Subramuniya Kottam
Andrew Schoenbaum
20.00
Satheesan Sudhakaran
12.50
Total
32.50
Kumbhalavalai Ganesha Temple
Indra Dhaksinamurthi
$ 45.00
Manoharan Navaratnarajah
75.00
Satheesan Sudhakaran
15.00
Total
135.00
Hindu Orphanage Endowment Fund
Anonymous
54.00
Ajit S Adhopia
112.47
Ashish Suresh Chitnis
1,405.00
Lila Shakti Devi
50.00
Ajit V. Gokhale
101.00
Eric Jautee
25.00
Gunasekaran Kandasamy
104.58
Ramakumar & Sailaja Kosuru
40.00
Mohana Das Krishnan
13.00
Christian Langers
150.00
Dev Mahadevan
17.00
P. Kumar & Shanti Mehta
300.00
Natraj Narayanswami
51.00
Indra Pal
100.00
Rama Pemmaraju Rao
24.50
Ganesan & Rajalakshmi Ramalingam
25.00
Alex Ruberto
45.00
Rakesh Sood
50.00
Rodney & Ilene Standen
30.00
Matthew Wieczork
135.00
K.D. & A.D. Williams
375.00
Total
3,207.55
Suntheram Family Trust
Ramachandran Suntheram
1,000.00
Loving Ganesha Distribution
Christian Langers
150.00
Manoharan Navaratnarajah
75.00
Matthew Wieczork
35.00
Total
260.00
Saiva Agama Trust
Matthew Wieczork
51.00
Alaveddy Pasupatheeswarar Trust Fund
Satheesan Sudhakaran
12.50
Thank you Gurudeva Fund
Anonymous
51.00
Vel Alahan
51.00
Maria Cristina Berisso
150.00
Ashish Suresh Chitnis
1,008.00
Shyamadeva Dandapani
101.00
Amarnath Devarmanai
324.00
Lila Shakti Devi
51.00
Panshula Ganeshan
72.00
Larry Gibson
100.00
Ravichandran Krishnan
51.00
Silvarajoo Muniandy
21.00
Manoharan Navaratnarajah
150.00
Satya Palani
30.00
Shanta Devi Periasamy
345.00
Deva Rajan
1,001.00
Jiva Rajasankara
51.00
Thomas J. Rowe
80.00
Alex Ruberto
45.00
Padmini Saravanapavan
25.00
Yatrikadevi Shivam
$ 50.00
Indivar Sivanathan
108.00
Jutikadevi Sivaraja
108.00
Sivadas Sivarajah
145.00
Trent Smail
500.00
Vignesh Sukumaran
25.00
Thanaletchmi Umamaheswaran
32.59
Vayudeva Varadan
45.00
Saravan Veylan
67.15
Total
4,787.74
Mathavasi Travel Fund
Kailash Sivam Dhaksinamurthi
120.00
Udayan Care Endowment Fund
Christian Langers
150.00
Jutikadevi Sivaraja
108.00
Richard Stocker
21.00
Total
279.00
Saivite Hindu Scriptural Fund for Visually Impaired
Rohit M. Iyer
100.00
Sri Chandra Madhab Debnath Endowment
Shyamal Chandra Debnath
170.00
Manitha Neyam Trust Fund
Bala Sivaceyon
28.72
Kerala Temples
Satheesan Sudhakaran
12.50
Kapaleeshwara Temple Orphanage Fund
Vasudevan Jayanthi
200.00
Natraj Narayanswami
51.00
Ganesan & Rajalakshmi Ramalingam
100.00
Rakesh Sood
50.00
Total
401.00
Manjung Hindu Sabha Orphanage Fund
Jutikadevi Sivaraja
108.00
Satheesan Sudhakaran
12.50
Total
120.50
Pazhassi Bala Endowment
Ganesan & Rajalakshmi Ramalingam
25.00
Theresa Sparks
50.00
Total
75.00
PIF Trust
Gowri Nadesan
30.00
Sadhunathan Nadesan
30,000.00
Tejadeva Nataraja
41.98
Satya Palani
75.00
Chudikadevi Saravan
30.00
Barathy Sockanathan
20.00
Total
155.00
Total Contributions $88,938.13
Funds at Market Value August 31, 2002
Total Endowment Funds $3,134,834.14
Total Pooled Income Funds $185,251.88
Grand Total $3,320,086.02
MISSION STATEMENT
Hindu Heritage Endowment is a publicly supported, charitable organization recognized as tax exempt by the IRS on April 22, 1994. Employer ID 99-0308924. Founded by Satguru Sivaya Subramuniyaswami, its philanthropic mission is to provide secure, professionally managed financial support for institutions and religious leaders of all lineages of Sanatana Dharma.
PROFESSIONAL ADVISORS
Halbert/Hargrove, Investment Counsel; Sonoda & Isara, LLP, CPA. HHE is a member of the Council on Foundations, an association of more than 2,000 foundations which interprets relevant law and management and investment principles, and of the National Committee on Planned Giving, the voice and professional resource for the gift planning community.
I want to participate. Where should I Send My Donation?
You may send your gift to an existing fund, create a new Endowment or request information through the address below.
Donations may be made online at www.hheonline.org or use the HHE tear-out card in the HINDUISM TODAY magazine to join our family of benefactors who are Strengthening Hinduism Worldwide. Thank you.