Annual Ganesha Blessing Ceremony for Students in Mauritius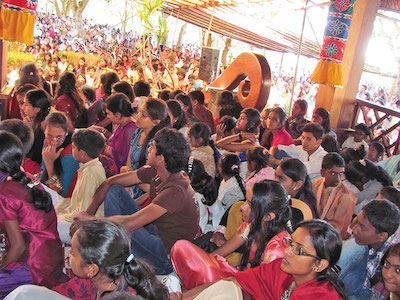 Thousands of students gather at Mauritius' Spiritual Park to ask Lord Ganesha to bless and guide them as they head into end-of-year exams
On the island nation of Mauritius, school exams are a serious Hindu family affair, and it is regarded as quite legitimate for families to seek divine blessings on such important times. Many Hindus turn to their 'ishta devata' for blessings at their local temples. Over the years, the Spiritual Park, located in the north of the island, has become a national reference for such students' blessings. Hence at the Spiritual Park the first Sunday of the month of October, the period during which all internal and international exams start in Mauritius, has been dedicated to Mauritius students. Under the guidance of Satguru Bodhinatha Veylanswami, members of Saiva Siddhanta Church, Mauritius Mission, organize an elaborate religious ceremony as an outreach mission which is attended by thousands of students who come to worship and receive the blessings of Lord Ganesha for their end of year school examinations.
The ceremony itself is a traditional one performed by Sivacharya priests to the eight-foot-tall majestic five-faced, ten-armed granite Panchamukha Ganapati. It consists of an elaborate homa, with a variety of traditional ingredients offered to the inner-world beings through the sacred fire to establish a firm communication with Lord Ganapati and His holy band of ganas.
Thousands of prayers written by students and their parents are burned on that day. At the end of the ceremony, blessed gifts consisting of pens, pencils and a sacred packet of vibhuti are offered in a printed pouch to all students. Parents as well as the youth happily consider these items very sacred for use in the examination room. Later during the year, many students come forward at the monthly havana to share inspired testimonies about their success in the exams. Having one's exams results associated with Lord Ganesha's blessings leaves a positive religious samskara in the young student's life.
Over the years, the Mauritius Spiritual Park has inspired thousands of devotees of all walks of life to a deeper religious life. This Park started with a vision. The founder, Gurudeva Sivaya Subramuniyaswami, had shared: "In 1986 I had a powerful vision of Lord Ganesha while I was here in Mauritius looking for property for Saiva Siddhanta Church. Lord Ganesha was walking from His temple attended by two priests. I was about to take a bath in the river where the river meets the sea. I was standing in the water with several sharks swimming around me. Lord Ganesha, accompanied by the two priests, looked at me and said, 'Just rub some oil on their noses and they will not harm you.' The vision led me directly to this special land by the Rempart River and its lagoon. The Spiritual Park is a fulfillment of that vision. I see it combining environmental and architectural beauty that will give spiritual peace and mystical knowledge to visitors for many generations in the future."
The Spiritual Park of Mauritius Endowment is HHE fund #31. The annual grant from this fund helps support the annual student homa held each October.
Learn more about this fund and the eighty-two individual funds under the umbrella of Hindu Heritage Endowment at www.hheonline.org. For an estate planning toolkit write to hhe@hindu.org.