Digital Dharma Endowment
The Digital Dharma Endowment was created to provide free content at the Himalayan Academy website.
Hawaii, USA
Fund #85
A Message from Satguru Bodhinatha Veylanswami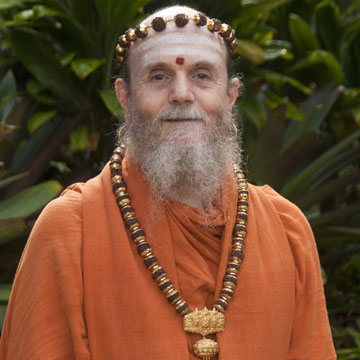 November 1, 2016
Namaste, and welcome to our various websites, through which we endeavor to provide accurate, useful and contemporary information on Hinduism.
A number of accomplishments have been achieved since we wrote to you a year ago. Our Hinduism Today website underwent a major upgrade to its look and functionality. Parts Two and Part Three of our movie History of Hindu India were completed and added to our YouTube channel. The pace of the addition of new viewers is impressive. Part One has reached almost 1.5 million views and Parts Two and Three each have almost 400,000 views. Clearly the series is fulfilling a need. Parts Four and Five are in the editing stage. Another accomplishment is our second mobile app. It is available through the Apple and Google stores. The title is "Spiritual Workout" The app provides a ten-minute routine of spiritual practice with multiple options in each of the five areas of sadhana.
As you know, following the vision of our Gurudeva, Satguru Sivaya Subramuniyaswami, all the material on our websites—and now our new mobile apps—is available for free online. However, to cover needed professional fees and to continue to upgrade and expand, we ask for donations the last two months of the year, following the model of Wikipedia. For six years running, you have responded generously, and after another year of working hard to enhance the sites and their resources, we are back again with this appeal.
In our "How Your Donations Were Used" page, we detail what we did with your past generosity, and what we hope to accomplish in the coming year. Your contribution this year will go to the enhancement of our websites and their content, and the development of mobile apps. The Media Studio construction is completed. However, to make that happen, a loan was taken to cover the final months of expenses. Thus a portion of this DDD will again be used to pay down that construction loan. The funds we raise in this drive do not pay staff salaries or administrative overhead, since these sites are created and maintained by selfless monks who work for free and live simply in our remote monastery on the island of Kauai.
In keeping with Gurudeva's vision that all major aspects of our work ultimately be supported by endowments, ten percent of your tax-deductible contribution goes into the permanent Digital Dharma Drive Endowment, which now stands at $94,356.91 after six years of fundraising. As that endowment accumulates, it will produce an ever-increasing income for decades to come, protecting the digital future of Hinduism, your religious heritage.
Donate today and support us in our efforts to sustain, improve and expand our Hindu digital resources for the benefit of this and future generations.

Satguru Bodhinatha Veylanswami
Guru Mahasannidhanam of Kauai Aadheenam
Publisher of Hinduism Today
How Your Past Donations Were Used
The lion's share of last year's contributions have gone, as usual, to ongoing web improvements, digital assets, ebooks and other projects, with 10% set aside for a DDD Endowment that, in the future, will take the place of this annual fund raising effort. A portion of the contributions was directed toward the Media Studio construction costs. As you may know, we have spent the past three years renovating the Media Studio, the circa 1959 facility in which the monks produce all of the books, magazine, art, websites, videos and teachings. Aside from being the nexus of the monastery's world outreach activities, it is a key place for hosting visitors. It was time to bring the Media Studio into the 21st century, so for the last 36 months it has undergone a massive renovation (and arid garden landscaping outside) by the monks and a task force of volunteers. We are using our own lumber, milled from island trees, for most of the wooden elements. It has taken a lot of work and money. We have moved in and resumed our publications, but there are a few areas yet to be completed.
App Development: This could well be called "the Year of the App" in the Ganapati Kulam. Much time and effort has gone into our first two apps. The first is a Gurudeva app that is super simple. Users can get a wisdom quotation from Gurudeva along with a photo of him, and also have access to a special selection of audio recordings, randomly or by category. This app went out to everyone during the November Mahasamadhi observances as an honoring of his life and legacy. The second app is more complex, requiring us to partner with experts. In this case, we commissioned our magazine printer, QUAD Graphics, to execute the app's many features. It is finished and is already out in the wide world, providing Hinduism Today and all of its graphic beauty and linguistic artistry for mobile devices around the world. Each quarter one of the new expenses is to have QUAD upload the next issue, then the next and next, ultimately creating a library of Hindu news and knowledge, all searchable.
Ebooks: We hired our regular firm in Chennai to convert more of our renowned publications on contemporary Hinduism to PDF, ePub (for iPad, iPhone, Nook and other devices) and Amazon Kindle formats. This included digitizing our latest book, Life Skills for Hindu Teens and dozens of our Insight sections from the magazine. More and more works are slowly being added to the Apple iBookstore and Amazon Kindle Store.
Web Upgrades: We restructured the navigation on our main pages, adding useful pull-down menus so the many depths of the sites can be better accessed. Then we worked on search capabilities (still not finished with that), because search is such a key way a site is utilized and enjoyed. New software and hardware much enhanced the speed and responsiveness of the sites, and more space was added as we were running out! We purchased NeoFinder, a swift searching tool for gaining better access to our hundreds of thousands of images on the server, and in September commissioned its creator to add a feature which will allow us to search by image, not by words!
Hinduism Today: Our professional web contractor was again hired to update the Hinduism Today pages with each quarter's new edition. And we reorganized all of Satguru Bodhinatha Veylanswami's Publisher's Desk editorials to be in one place and more readily accessed and downloaded.
Social site: Another firm was hired to help us further develop the private social networking site to connect our Saiva Siddhanta Church members and Himalayan Academy students around the world. Lots of little tweaks were made to this part of the web. We also purchased some software to improve our occasional webinars.
Virtual Tour Upgrades & Educational Game Development: We purchased a new QuadCopter equipped with a 360-degree video camera, as we ramp up to produce a world-class virtual tour of Kauai and the monastery. We hired a Japanese map maker, Hiroko Letman, who painted a delightful map of the full 70 acres of the monastery lands, to be used later as the main entry for that virtual tour. In another area, high-end software was purchased (Unity) to allow the team to learn the arcane art of game development. Now, after about 8 months, we are well on our way to having a teaching tool for youth, one in which they go on a spiritual adventure in a tropical land, finding treasures and meeting with sages from whom they learn life's lessons. This software was used to create special animated graphics for our Hindu history movies, so it is already proving useful. This is a new and exciting area for us and we have much yet to learn here.
Miscellany: Funds were used to purchase software and fonts that are used on the new website, iPads and Android devices for developing delivery systems to mobile units, web domain registration fees, online training resources, etc. We contracted with Shutterstock for year-around image access so we can now download photos, art and vector graphics any day of the year, a new freedom we are enjoying.