Udayan is a Sanskrit word signifying 'Eternal Sunrise'.

Click here to see the Udayan Care 8 min video!

Udayan Care is an Indian Non-Profit Organization with its head office in New-Delhi. Our vision is to 'regenerate the lives of the disadvantaged', particularly children and women and we are committed to sustainable social development. Our theory of change is: "Every child a home and education, every adult the dignity of self reliance and the desire to give back to society."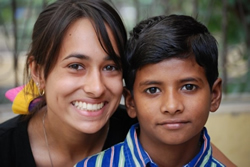 Through the power of mentorship, we nurture relationships that transform orphaned children in our long-term foster homes, disadvantaged girls in our education scholarships, underserved youth and adults in our IT & Vocational training centres, and children affected by HIV in our outreach programme. In 19 years, we have served more than 11,000 people in 13 cities of India.



Strategic Objective in line with Vision & Mission
Providing protection and holistic growth to children in difficult circumstances
Inculcating a new world view and practice towards children in vulnerable situations
Establishing dynamic processes/models of care and protection
Promoting voluntarism to engage in child care and development processes
Increasing professional skills and employability of financially and socially disadvantaged communities
Develop a structured research and documentation process that can be shared with other stakeholders at national and international levels
Influencing policy reform and decision making processes
Organise adequate resources for all the programmes; maintain the financial health of the organization and ensure that we work effectively as well as be cost effective.
New Delhi, India

Fund #42

Visit the Udayan Care website here.