Yes,
I am
a Benefactor
of Hinduism Today!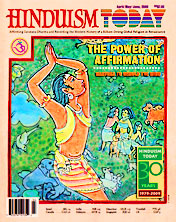 Thank you!
You may:
* make a single donation of USD1,000 or more
* make a monthly pledge totalling USD1,000 or more, or
* make the Production Fund a beneficiary of USD1,000 or more in your estate plan

If you opt for the latter and wish to include the Fund in your will, life insurance, in a revocable living trust or a charitable remainder trust, please elucidate in the comments section. You may review planned giving options here.
Hinduism Today Production Fund