"If You Break Ground, They Will Give"
October - November - December 2007 Newsletter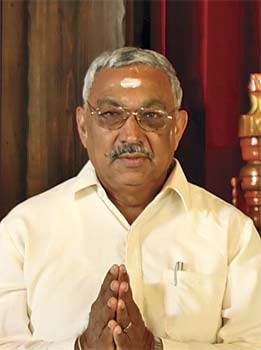 Jai Seecharran is willing to take reasonable risks.
After a brief career as a high school science teacher, he took his chances as a motel owner, landlord, Baskin Robbins and Karmelkorn franchisee, and with a few other businesses.
He feels that the same entrepreneurial spirit that starts new businesses funds new temples. "You have to break ground if you hope to raise money," he says. "Unless people see something happening, they will not be inspired to give."
He moved to the United States from coastal Guyana when he was eighteen to further his education. Both in Iowa, where he spent most of his adult life, and in Arizona, where he retired a few years ago to be with family, he saw Hindu immigrants find each other so they could express their faith together.
"The group usually starts in a home and then moves to an apartment basement," he said of the temporary Hindu temples that have sprung up throughout the country over the years. "In Ames, Iowa, we started with five or six families in a home and then moved to an apartment basement as our group grew. Our temple on Sunday morning might have been a party room on Saturday night."
The Iowa devotees talked about building a permanent temple for years, he said. But substantial contributions began to flow only after the groundbreaking.
When visiting his daughter in Scottsdale in the late 1990s, he heard local Hindus talking about building their own temple. "They asked me how we raised the money for the Iowa temple, how much we needed initially, what our strategy was," he recalled. "I told them to have members of the temple board make loans, to borrow from the bank, and to start work. Others would contribute once the project was under way."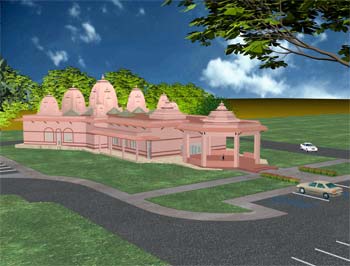 He said that Bharatiya Ekta Mandir of Arizona, a Hindu and Jain Temple in Phoenix, started construction in September 2006. Phase 1 will be finished in August 2007, at a cost of $5 million. Indianization of the 12,000-square-foot temple will follow later, he added.
Moving forward at that pace entails risk, but Jai feels the risk is worth taking. A permanent temple, he says, both expresses and creates community. "The presence of the temple attracts other Hindus," he said. He recollected hearing from a Hindu doctor from Canada asking what Iowa was like and where the local temple was. "For people relocating to a new community, this is critical. A permanent temple may be the determining reason they choose a community. But to get it built, someone has to stick his neck out."
Jai applied that same principle in December of 2006 to the long-range future of the Bharatiya Ekta Mandir of Arizona by creating a permanent fund (#68) at the Hindu Heritage Endowment with a gift of appreciated stock. His gift bypassed the capital gain on the stock and generated an income tax deduction based on the stock's full market value. Having broken the ice with an established gift, he hopes others will give to the fund, either during their life or through a bequest. The fund is meant as a long-term source of reliable income for the temple. As with creating a temple, someone had to take the first step. Please visit the temple at www.ektamandir.org and make a donation to the fund at www.hheonline.org/donate.shtml.
April to June Endowment Contributions
Kauai Aadheenam Monastic Endowment
Anonymous
US$10.00
K. Lakshmi Kantha Reddy
482.00
Darmaguhan Satgunasingam
75.00
Chandrasekhar Venkatakrishnan
100.20
Other Donations
15,476.30
Total
16,143.50
Iraivan Temple Endowment
Anonymous
1,204.00
Roger & Rosemary Brown
120.00
Victoria Lynne Johnson
30.00
R. R. Kamath
100.00
Mohan Rao Korukonda
100.00
Bharat Rafpara
131.00
Chandrasekhar Venkatakrishnan
100.20
Raja Vishnu
80.00
Other Donations
26,634.80
Total
28,500.00
Kauai Aadheenam Annual Archana Fund
Gunavadee Caremben
7.18
Somasundaram Caremben
7.18
Sukanta Caremben
7.18
Tarakini Gunasegaran
10.70
Victoria Lynne Johnson
10.00
Amooda Koothan
4.77
Saravan Koothan
4.77
Jagrata Minardi
142.50
Subramaniam Pennathur
16.67
Kirtideva Peruman
9.57
Niroshnee Peruman
14.34
Pathmini Saravanapavan
300.00
Devaladevi Sivaceyon
8.69
Nutanaya Sivaceyon
8.69
Patudeva Sivaceyon
8.69
Hemavalli Sivalingam
2.62
Kantaruban Sivalingam
2.62
Rohini Sivalingam
2.62
Potriyan Sivanathan
5.76
Javanya Skanda
5.77
Shun K. Sunder
249.11
Samynaden Veerapen
19.02
Siven Veerasamy
28.64
Total
877.09
Hinduism Today Lifetime Subscription Fund
Yatrika Ajaya
80.34
Brian Breiling
80.00
Ravichandran Ceyon
41.00
Maruthu Pandian Darmalingam
724.00
Ravindra Doorgiat
64.51
Ramesh Gantyala
320.00
Anil D. Halappa
240.00
Isanah Kameni
17.50
T. Iswarah Kumar
35.50
Lakshman Maheswaran
800.00
Adi Sankara Perumal
25.81
Anjeeni Devi Perumal
9.68
Aruna Pundit
800.00
Mogan Ramasamy
298.00
Anonymous
101.00
Charles & Jan Roberts
30.00
Vijay N. Samant
800.00
Girish Skanda
114.76
Subasene Skanda
91.82
Rakesh Vaidyanathan
240.00
Mary Sophia Webster
50.00
Total
4,963.92
Hindu Businessmenís Association Trust
Easvan Param
409.95
Janaka Param
91.00
Total
500.95
Boys School for Iraivan Priesthood
Bala Sivaceyon
34.78
Chandrasekhar Venkatakrishnan
100.20
Total
134.98
Kauai Aadheenam Matavasi Medical Fund
Maruthu Pandian Darmalingam
41.25
Gowri Nadason
207.64
K. Lakshmi Kantha Reddy
101.00
Vayudeva Varadan
54.00
Other Donations
6,300.00
Total
6,703.89
Sri Subramuniya Kottam Fund
Anonymous
50.00
Total
50.00
Kumbhalavalai Ganesha Temple Endowment
Anonymous
50.00
Manoharan Navaratnarajah
75.00
Total
125.00
Hinduism Today Production Fund
Palani Annamalai
10.00
Kamal V. & Shonu K. Gandhi
1,001.00
Subramaniam Pennathur
16.66
Kamalakar Rambhatla
100.00
Anonymous
101.00
Narayana & Sarojini Rao
2,016.00
Total
3,244.66
Hindu Orphanage Endowment Fund
Praneel Chandra Gosai
250.00
Pankaj N. Lalji
500.00
Natraj Narayanswami
25.00
Alex Ruberto
75.00
Nikolai Safavi
125.00
Laurie & Mark Scurich
200.00
Raghavan Srinivasan
400.00
Rodney & Ilene Standen
30.00
Chandrasekhar Venkatakrishnan
100.20
Raja Vishnu
80.00
Total
1,785.20
Hindu Education Endowment
Bhagawandas P. Lathi
500.00
Naran D. Patel & Mani N. Patel Family
100.00
Total
600.00
Hindu Press International Endowment Fund
Hiranya & Saraswathi Gowda
63.00
Anonymous
101.00
Chandrasekhar Venkatakrishnan
100.20
Total
264.20
Loving Ganesha Distribution Fund
Manoharan Navaratnarajah
75.00
Gassa Patten
1,500.00
Total
1,575.00
Alaveddy Pasupatheeswarar Temple Fund
Anonymous
50.00
Total
50.00
Kauai Aadheenam Religious Art and Artifacts Fund
Rajadeva Alahan
153.00
Total
153.00
A. Saravanapavan Family Murugan Temple Pillaiyar Shrine Fund
Chitranjan Saravanapavan
50.00
Pathmini Saravanapavan
50.00
Total
100.00
Thank You Bodhinatha Fund
Hotranatha Ajaya
33.00
Amarnath & Latha Devarmanai
324.00
Manoharan Navaratnarajah
150.00
Alex Ruberto
45.00
Vayudeva Varadan
63.00
Raja Vishnu
80.00
Tsajon & Kamalia Von Lixfeld
1,000.00
Total
1,695.00
Saivite Hindu Scriptural Fund for the Visually Impaired
Alex Ruberto
45.00
Total
45.00
Sri Chandra Madhab Debnath Endowment
Shyamal Chandra Debnath
150.00
Total
150.00
Manitha Neyam Trust Fund
Bala Sivaceyon
34.76
Total
34.76
Taos Hanuman Fund
Kathleen A. Knight
200.00
Total
200.00
Kapaleeshwara Temple Orphanage
Auslin Mangal Lawrence
150.00
Total
150.00
Pazhassi Balamandiram Orphanage Fund
Natraj Narayanswami
58.34
Total
58.34
Karnataka Temple Development Fund
Hiranya & Saraswathi Gowda
303.00
Raghavan Srinivasan
400.00
Total
703.00
Swami Vipulananta Childrenís Home Endowment
Anonymous
50.00
Total
50.00
Hindu Literature Fund
K. Lakshmi Kantha Reddy
75.00
Nigel Subramaniam Siva
600.00
Total
675.00
Hinduism Today Complimentary Subscription Fund
Judy Berty
20.00
Hiranya & Saraswathi Gowda
153.00
Anonymous
101.00
Narendran Siddan
25.00
Martine Thom
100.00
Total
399.00
Himalayan Academy Book Distribution Fund
Anonymous
101.00
Total
101.00
Kauai Aadheenam Yagam Fund
Victoria Lynne Johnson
10.00
Mohan Rao Korukonda
100.00
Total
110.00
Yogaswami Hindu Girlsí Home of Sittandy Endowment
Maruthu Pandian Darmalingam
41.25
Lila Shakti Devi
50.00
Ripla & Gaurav Malhotra
125.50
Natraj Narayanswami
108.33
Subramaniam Pennathur
16.67
Jutikadevi Sivaraja
432.00
Silas H. Zirkle
500.00
Total
1,273.75
Yogaswami Hindu Boysí Home Fund
Maruthu Pandian Darmalingam
41.25
Ripla & Gaurav Malhotra
125.50
Natraj Narayanswami
58.33
Dharmalingam Siddhan
150.00
Total
375.08
India Hindu Tribals Endowment
Raghavan Srinivasan
400.00
Total
400.00
Murugan Temple of North America Puja Fund
Vayudeva Varadan
54.00
Total
54.00
Pooled Income Fund (PIF)
Savitri Palani
100.00
Total Contributions
72,345.32
Funds at Market Value, June 30, 2007
Total Endowment Funds
8,835,303.44
Total Pooled Income Funds
224,051.95
Grand Total
US$9,059,355.39
MISSION STATEMENT
Hindu Heritage Endowment is a publicly supported, charitable organization recognized as tax exempt by the IRS on April 22, 1994. Employer ID 99-0308924. Founded by Satguru Sivaya Subramuniyaswami, its philanthropic mission is to provide secure, professionally managed financial support for institutions and religious leaders of all lineages of Sanatana Dharma.
PROFESSIONAL ADVISORS
Halbert/Hargrove, Investment Counsel; Sonoda & Isara, LLP, CPA. HHE is a member of the Council on Foundations, an association of more than 2,000 foundations which interprets relevant law and management and investment principles, and of the National Committee on Planned Giving, the voice and professional resource for the gift planning community.
I want to participate. Where should I Send My Donation?
You may send your gift to an existing fund, create a new Endowment or request information through the address below.
Donations may be made online at www.hheonline.org or use the HHE tear-out card in the HINDUISM TODAY magazine to join our family of benefactors who are Strengthening Hinduism Worldwide. Thank you.