Malaysia Endowment Activity
July-August-September 2002 Newsletter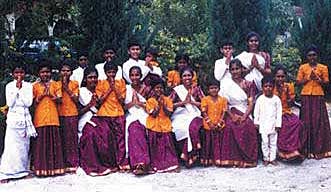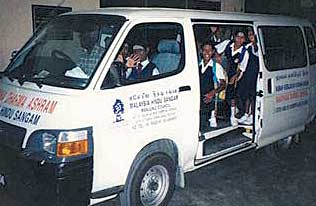 The Manjung Ashram in Sitiawan, Malaysia, is an orphanage founded six years ago by the Manjung Hindu Sangam. Today, 30 children are being raised there with much love by a dedicated team composed of manager Tiru Aramban and several volunteers. Religious activities include daily prayers, temple attendence once a week and on all festival days, plus religious classes on weekends. The ashram recently purchased a van so the children could be conveniently taken to public school. Tiru Aramban plans to eventually build a three-story building for the residents.
Average monthly expenses for one resident amount to RM 2,500, which includes food, medical expenses, accommodation, transportation and wages for a caretaker cum cook. As a volunteer organization, the Ashram needs much support from kind-hearted souls to meet its many commitments in helping these children who are orphans or victims of abuse.There is much to provide to maintain their health, comfort, sense of being at home and happiness in general. Every gesture of kindness helps these children mature into self-dependent, self-confident, well ajusted beings totally and positively integrated into the community.
HHE fund #53, established to support this most worthy institution, has a current balance of US$13,685.34. In March 2002, Manjung Ashram was issued a grant worth RM1,900 from this fund.
Also benefiting Malaysian children is HHE fund #16 established in 1996 by Arjunan Subramaniam, an attorney in Kuala Lumpur. It is known as the Malaysian Hindu Youth Educational Trust and provides free and wide distribution of the Saivite Hindu Religion Children's Courses to Malaysia's Hindu Children. To date, hundreds of copies have been distributed throughout Malaysia. The fund has a balance of US$10,230.07.
Memorial Funds
Establishing a memorial fund at Hindu Heritage Endowment can, in addition to honoring a deceased loved one, provide permanent financial support to the loved one's favorite Hindu institutions, perhaps a temple in the town in which he was raised, an orphanage or a swami's ashram that he supported. Because of HHE's unique global reach, the beneficiary institutions can be in any country in the world. Two of our current memorial funds are described below.
The Sundari Peruman Memorial Fund was started by Markandeya and Ravi Peruman, husband and son of Sundari, both now living in California. The Fund welcomes donations from anyone who loved or admired Sundari Peruman. The endowment is dedicated to teaching Hindu children in America about their religion. Another memorial fund is the A. Shanmugam Family Fund, created by Bala Shanmugam of Ipoh, Malaysia, in honor of his father. Bala's mother, Sambugardevi, and other members of the family joined in to establish the fund. This endowment gives a yearly grant to the Abirami Amman Temple at Thirukadaiyur, South India, which in turn performs a monthly archana to the family.
Recent Endowment Contributions
Kauai Aadheenam Monastic Endowment
Gunasekaran Kandasamy
$104.58
Iraivan Temple Endowment
Other Contributions
30,000.00
Kauai Aadheenam Annual Archana Fund
Anonymous
93.38
Darshani Alahan
21.90
Niroshnee Peruman
12.48
Total
127.76
Hinduism Today Distribution Fund
Anonymous
3.33
Appamal Athimulam
26.24
Veerasamy Batumallah
132.00
Rathi Devi Batumallah
160.00
Ishani Chowdhury
1,356.00
Chellappa Deva
588.07
James Jay Devlin
180.00
Ravindra Doorgiat
25.57
Chitravelloo Gunasegaran
158.33
Isanah Kameni
26.30
Arul Karttikeya
138.40
Egilen Koothan
13.30
Amravaddee Kownden
40.00
Ravichandran Krishnan
90.00
Malini Kumar
60.00
Thanesh Kumar Kumaravel
169.59
Thavamalar Lingam
78.67
Kartikeyen Manick
67.00
Aaran Mohann
241.50
Jayaluxmee Mooroogen
3.33
Logadasan Murugesu
140.00
Santha Devi Muniandy
188.09
Nalakini Niranjana
305.00
Umah Rani Palanisamy
101.82
Chandran Param
558.40
Uma Pariti
5.50
Logadassen Peruman
139.73
Pakion Vedee Peruman
14.97
Syam P. Reddy
126.00
Marilyn Reid
126.00
Selvaraj Sanjeevee
29.70
Chandra Shekharan
525.00
Dasa Sivam
232.00
Lavanadevi Sivam
159.00
Robert Sorrells
216.00
Raghuraman Srinivasan
252.00
Josephine Sudha
62.50
Shun K Sunder
1,001.00
K. S. Thamilarasi
192.57
Saroja Vasudevan
20.00
Shivani Vinayaga
282.36
Per Winther
189.00
Total
8,424.27
Hindu Businessmenπs Association
Anonymous
21.67
Vel Alahan
600.00
Paramaseeven Canagasaby
21.17
Manogaran Mardemootoo
49.99
Easvan Param
57.25
Janaka Param
11.00
Total
761.08
Boys School for Iraivan Priesthood
Indra Dhaksinamurthi
45.00
Shanta Devi Periasamy
32.87
Bala Sivaceyon
52.23
Total
130.10
Mathavasi Medical Fund
Arul Karttikeya
256.99
Gowri Nadason
30.00
Vayudeva Varadan
45.00
Matthew Wieczork
45.00
Total
376.99
Nadesan Shum Fund
Sadhunathan Nadesan
1,008.00
Tirunavakkarasu Nayanar Gurukulam
Aran Sendan
153.00
Sri Subramuniya Kottam
Andrew Schoenbaum
30.00
Malaysian Hindu Youth
Chandran Nagalingam
550.00
SS Subramuniya SDT
Uma Pariti
$6.00
Kumbhalavalai Ganesha Temple Fund
Indra Dhaksinamurthi
45.00
Manoharan Navaratnarajah
75.00
Total
120.00
Suntheram Family Trust
Ramachandran Suntheram
1,500.00
Mahajana College Endowment
Uma Pariti
5.50
Spiritual Park of Mauritius
Anonymous
480.00
Mauritius Saiva Dharmasala
Anonymous
488.00
Uma Pariti
5.50
Total
493.50
Hindu Orphanage Endowment
Anonymous
33.00
Ajit S Adhopia
212.72
Lila Shakti Devi
75.00
Debra N. Fry
83.00
J J Gordon
80.00
Uma Pariti
5.50
Gunasekaran Kandasamy
104.58
Ramakumar & Sailaja Kosuru
20.00
Jutikadevi Raja
108.00
Alex Ruberto
60.00
Matthew Wieczork
146.00
Total
927.80
Loving Ganesha Distribution
J J Gordon
216.00
Manoharan Navaratnarajah
75.00
Matthew Wieczork
40.00
Total
331.00
Manitha Neyam Trust Fund
Sarojnidevi Ramanathan
150.00
Bala Sivaceyon
15.67
Total
165.67
HHE Administration
Chandran Nagalingam
550.00
Uma Pariti
5.50
Total
555.50
Saiva Agamas Trust Fund
Chandran Nagalingam
150.00
Matthew Wieczork
45.00
Total
195.00
Positive Discipline Education Fund
Vinaya Alahan
255.00
Shanta Devi Periasamy
265.00
Total
520.00
Thank You Gurudeva Fund
Anonymous
250.00
Sandra Aberkalns
50.00
Subash & Suman Ahuja
25.00
Neeja & Nimish Bakshi
101.00
Jagdish P. & Usha Bhatnagar
51.00
S. And Saroja Chandrasekaran
101.00
Stephanie Corgatelli
300.00
Praful & Bharati Desai
101.00
Shiris & Bharati Desai
51.00
Amarnath Devarmanai
324.00
Appasamy Kuppusamy
69.71
Debra N. Fry
84.00
Kelvin F. Gagnier
245.00
Suguneswary Gunasegaran
130.00
Patty Hickey
88.00
Lucy Kawaihalau
1,000.00
Meenal S Khajuria
10.00
Vani S. Khajuria
10.00
Ganesh Krishnan
10.00
Sudha Kulkarni
100.00
Thungaveloo Mariappan
17.78
M. H. Vamadeva Murthy
100.00
Manoharan Navaratnarajah
150.00
I. N. Pandit
101.00
Shanta Devi Periasamy
230.00
Jutikadevi Raja
148.00
Deva Rajan
1,008.00
Marilyn Reid
63.00
Alex Ruberto
45.00
Wendy Schuljan
25.00
Linda Seeley
27.00
Som Sharma
101.00
Canabady Shummoogum
9.00
Ramesh Sivanathan
26.14
Sivadas Sivarajah
210.00
Raghuraman Srinivasan
5,000.00
Jamanaprasad & Jamna Thakkar
51.00
Vayudeva Varadan
72.00
K.S. & Premlata Venkataraman
15.00
Total
10,499.63
Mathavasi Travel Fund
Chandran Nagalingam
550.00
Saivite Hindu Scriptural for Blind
Anonymous
25.00
Michael Cherry
25.00
Ashish S. Chitnis
504.00
Ishani Chowdhury
50.00
Damara Shanmugan
150.00
Total
754.00
Nepali Kumari Goddess Fund
Uma Pariti
5.50
Niraj Thaker
11.00
Total
16.50
Kapaleeshwara Temple Fund
Anonymous
125.00
Vasudevan Jayanthi
300.00
Total
425.00
Manjung Hndu Orphanage Endowment
Uma Pariti
5.50
Jutikadevi Raja
108.00
Mahadevan Sannasy
50.00
Total
163.50
Pazhassi Balamandiram Orphanage Fund
Anonymous
181.50
Harold Green
25.00
Amol Hari Joshi
21.00
Uma Pariti
5.50
Total
227.50
Udayan Care Endowment
Anonymous
25.26
Jutikadevi Raja
108.00
Total
133.26
Coconut Money Tree
Personal Income Fund
Gowri Nadason
10.00
Satya Palani
50.00
Total
60.00
Total Contributions
$59,795.14
Funds at market value February 28, 2002
Total Endowment Funds $3,251,325.12
Total Pooled Income Funds $164,150.81
Grand Total $3,415,475.93
MISSION STATEMENT
Hindu Heritage Endowment is a publicly supported, charitable organization recognized as tax exempt by the IRS on April 22, 1994. Employer ID 99-0308924. Founded by Satguru Sivaya Subramuniyaswami, its philanthropic mission is to provide secure, professionally managed financial support for institutions and religious leaders of all lineages of Sanatana Dharma.
PROFESSIONAL ADVISORS
Halbert/Hargrove, Investment Counsel; Sonoda & Isara, LLP, CPA. HHE is a member of the Council on Foundations, an association of more than 2,000 foundations which interprets relevant law and management and investment principles, and of the National Committee on Planned Giving, the voice and professional resource for the gift planning community.
I want to participate. Where should I Send My Donation?
You may send your gift to an existing fund, create a new Endowment or request information through the address below.
Donations may be made online at www.hheonline.org or use the HHE tear-out card in the HINDUISM TODAY magazine to join our family of benefactors who are Strengthening Hinduism Worldwide. Thank you.