Sri Lanka Endowment Activity
May - June 2001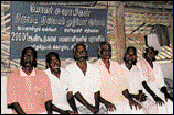 In the year 2000, grants totalling Rs.117,432 were given to the Manitha Neyam Trust for their project of supporting the Yogar Swamigal Thiruvadi Nilayam (pictured left) in Killinochchi, located in the northern part of Sri Lanka. Since our last report in Hinduism Today six months ago, the number of residents has swelled from fifty-six to eighty-seven. The increase in thirty-one residents is due to the military operations in Kaithadi which have displaced additional elderly people. The Manitha Neyam Trust of Sri Lanka solicits support for the home which provides the residents with free accommodation, meals, clothing and medical care. Religious activities include a Sunday School for Hindus every week, bhajans on Fridays and listening to the various religious sayings of Yogar Swamigal. Donations received in 2000 were sufficient to construct a new kitchen. The HHEfund is #47 with a balance of $13,664.42. We invite you to help build up this worthy endowment.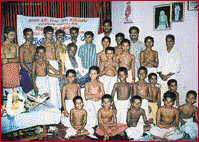 In December 2000 a grant of Rs. 93,280 was given to the Tirunavukkarasu Nayanar Gurukulam (pictured left) of Batticaloa, Sri Lanka. This orphanage is noted for its active Hindu outreach programs in the Amparai district of Sri Lanka. The overall goals of the program are:to focus on Hindu revival of the future; to promote Hindu social cohesion through congregational participation and uniform practices; to take action for arresting converson and denigration by other faiths. It is HHEFund #12 with a balance of $22,947.34.
In December 2000 three other Sri Lankan institutions received their first grants from smaller endowments: Sri Subramuniya Kottam of Kopay (Rs. 3,784); Kumbhalavalai Ganesha Temple of Alaveddy (Rs. 4,136); and Pasupatheeswara Siva Shrine of Alaveddy (Rs. 2,112).
Support Hinduism In your Homeland
Consider the possibility of starting a fund at HHE to support a Hindu institution in your home land perhaps the village temple, a deserving orphanage or an ashram. A modest endowment in US dollars can produce a large grant in the local currency and provide the institution or activity with a permanent and growing source of income.

Some of our donors have chosen to establish such a fund in the name of their family, which encourages donations just from family members, such as the A. Shanmugam Family Fund. It provides a monthly archana on full moon day at Thirukadaiyur Abirami Amman Temple in Thirukadaiyur, Tamil Nadu, India. Other donors have established a fund in the name of a temple itself, which then encourages a wide range of donors to also contribute. One example is the Iyarappan Temple Trust which sponsors a monthly puja and feeding on Ardra Nakshatra at a Siva temple in Thiruvaiyaru, Tamil Nadu, India. Another example is the Kerala Temple Trust which provides for upkeep of any temples in the state of Kerala, India. For more examples, please refer to the complete listing of HHEfunds found on the web at www.hheonline.org/endowments.html If you are interested in starting such a fund, please write and request our free information packet on how to start your own endowment.
Recent Endowment Contributions
Kauai Aadheenam Monastic Endowment
Vinaya Alahan
$500.00
Kanda Chelvarajah
86.54
Total
586.54
Iraivan Temple Endowment
Jane Claassen
250.00
James H. Daugherty
1,000.00
Elayne M. Neal
25.00
Rajalakshmi Ramalingam
50.00
S. Sivaraman
31.88
Rodney & Ilene Standen
10.00
Latha Suresh
30.00
Other Donations
38,658.75
Total
40,055.63
Kauai Aadheenam Annual Archana Fund
Aravindraj Chandrasekaran
220.00
Kailash Sivam Dhaksinamurthi
250.00
Other Donations
44.49
Total
514.49
Hinduism Today Distribution Fund
Rita Balachander
100.00
Rathi Devi Batumallah
64.00
Veerasamy Batumallah
50.00
Aravindraj Chandrasekaran
154.00
Jane Claassen
500.00
Balu Devado
160.00
Chitravelloo Gunasegaran
223.77
Mohana Sundari Gunasegaran
21.58
Suguneswary Gunasegaran
27.56
Tarakini Gunasegaran
4.87
Tirunyanam Gunasegaran
6.37
Starr Barrie-Hull
172
Sanah Kameni
31.58
Diksha Katir
413.62
Ushadevi Katir
622.60
Thavamalar Lingam
78.65
Alistair McElwee
200.00
Santha Devi Muniandy
51.51
Logadasan Murugesu
64.00
Nalakini Niranjana
209.43
Govindamal Oyappan
50.00
Kulamani (Roselia) Simon
80.00
Lavanadevi Sivam
210.00
Sivaneswaran Sockanathan
31.00
Robert Sorrells
108.00
Ganesammal Supiah
70.50
Vivam V. Thillaikanthan
50.00
Saroja Vasudevan
10.00
Total
3,765.04
Hindu Businessmen's Association
Vel Alahan
600.00
Paramaseeven Canagasaby
13.46
Manogaran Mardemootoo
139.92
Easvan Param
254.36
Janaka Param
18.00
Other Contributions
12.50
Total
1,038.24
Hindu of the Year Fund
Thamby Kumaran
54.00
Boys School for Iraivan Priesthood
Indra Dhaksinamurthi
15.00
Christian Langers
100.00
Michael Pettingill
390.00
Bala Sivaceyon
52.22
Total
557.22
Mathavasi Medical Fund
Gowri Nadason
90.00
Matthew Wieczork
40.00
Total
163.00
Tirunavakkarasu Nayanar Gurukulam
Aran Sendan
51.00
Subramuniya Ashram
Hitesvara Saravan
108.00
Sri Subramuniya Kottam
Indra Dhaksinamurthi
15.00
Andrew Schoenbaum
20.08
Total
25.08
Kumbhalavalai Ganesha Temple Fund
Indra Dhaksinamurthi
30.00
Manoharan Navaratnarajah
50.00
Total
80.00
Hinduism Today Endowment Fund
Christian Langers
50.00
Alistair McElwee
200.00
Total
250.00
Vishmata Gayatri Trust Fund
Starr Barrie-Hull
73.00
Hindu Orphanage Endowment
Ajit S Adhopia
82.16
Jane Claassen
250.00
James H. Daugherty
500.00
Starr Barrie-Hull
20.00
Christian Langers
100.00
Mani Nallasivan
800.00
Elayne M. Neal
25.00
S. Ramadurai
10.00
Rajalakshmi Ramalingam
50.00
Alex Ruberto
30.00
Amba Sundari Siddhi
20.00
S. Sivaraman
63.75
Matthew Wieczork
107.00
Total
2,057.91
Sundari Peruman Memorial Fund
Markandeya Peruman
100.00
Loving Ganesha Distribution Fund
Manoharan Navaratnarajah
50.00
Matthew Wieczork
30.00
Total
80.00
Saiva Agamas Trust Fund
Matthew Wieczork
84.00
Total
84.00
Nepal Kumari Goddess Education Fund
Richard Stocker
21.00
Thank You Gurudeva Fund
Florence Adams
50.00
Hotranatha Ajaya
7,000.00
Maria Cristina Berisso
100.00
Stephanie Corgatelli
100.00
James H. Daugherty
1,000.00
Paul Yogananda DeSantis
108.00
Hurditya Deva
21.00
Amarnath Devarmanai
216.00
Toshadeva Guhan
20.16
Spencer Inman
33.00
Emmaline B. Jordan
102.00
Christian Langers
150.00
Don Loshonkohl
300.00
Manoharan Navaratnarajah
100.00
Janaka Param
401.00
Shanta Devi Periasamy
230.00
Anonymous
50.00
Jutikadevi Raja
1,008.00
Dwight W. Redfield
500.00
Alex Ruberto
25.00
Aran Sambandar
30.00
Thavagnanam Sivagnanam
500.00
Palaka Shivam
2,500.00
Niraj Thaker
11.00
Marianne Hvidsten Thompson
500.00
Steven Trager
15.00
Vayudeva Varadan
42.00
Other Contributions
5.00
Total
15,117.16
Manitha Neyam Trust Fund
Thamby Kumaran
108.00
Bala Sivaceyon
15.66
Total
123.66
Taos Hanuman Fund
Charlette A Smith
50.00
Kapaleeshwara Temple Orphanage Fund
Vasudevan Jayanthi
200.00
Jyothi Karuppiah
10.00
Vellore B. Padmavathy
150.00
Total
360.00
Nadesan Family Fund
Sadhunathan Nadesan
1,008.00
Thirunavukkarasu Nayanar Gurukulam
Aran Sendan
51.00
Lakshmi Sivasurier
65.73
Total
116.73
PIF Trust
Saravanan Vadivelu Kalimuthu
20.00
Gowri Nadason
30.00
Satya Palani
75.00
Barathy Sockanathan
31.53
Jnanideva Shanmuga
10.00
Total
166.53
Total Contributions
$66,500.70
Funds at Market Value December 31, 2000
Total Endowment Funds
$3,242,108.50
Total Pooled Income Funds
$189.082.41
Grand Total
$3,431,190.91
MISSION STATEMENT
Hindu Heritage Endowment is a publicly supported, charitable organization recognized as tax exempt by the IRS on April 22, 1994. Employer ID 99-0308924. Founded by Satguru Sivaya Subramuniyaswami, its philanthropic mission is to provide secure, professionally managed financial support for institutions and religious leaders of all lineages of Sanatana Dharma.
PROFESSIONAL ADVISORS
Halbert/Hargrove, Investment Counsel; Sonoda & Isara, LLP, CPA. HHE is a member of the Council on Foundations, an association of more than 2,000 foundations which interprets relevant law and management and investment principles, and of the National Committee on Planned Giving, the voice and professional resource for the gift planning community.
I want to participate. Where should I Send My Donation?
You may send your gift to an existing fund, create a new Endowment or request information through the address below.
Donations may be made online at www.hheonline.org or use the HHE tear-out card in the HINDUISM TODAY magazine to join our family of benefactors who are Strengthening Hinduism Worldwide. Thank you.