June 25, 2010


See our previous newsletters:
#1, May 2008; #2, May 2009 #3, October 2009. and #4, January 2010.

Publishing
and the world's vicissitudes
The Washington Post. Co. shocked the publishing world when it revealed plans to sell Newsweek magazine last month. Ad revenue had dropped and, with no means to cover losses, current owners had to abandon ship. A national institution that for 77 years was a smashing success, that projected smartness and solidity, suddenly showed deep and irreparable cracks...

Protecting
Hinduism Today
Whereas commercial publications generally depend entirely on sales and advertising, a nonprofit such as Hinduism Today does have another option. It can build strong endowments to provide support and stability through turbulent times.

A well-run endowment pays grants based on longer-term returns such as five years or more so that a drop in any one year or two does not impact revenues drastically. It provides a bridge over the storm.

It was with this in mind that founder Satguru Sivaya Subramuniyaswami wisely established the Hinduism Today Production Fund some 15 years ago.

The fund has since grown steadily and it already provides monies to enhance the magazine's content and reach—in the digital realm, notably. But it is still a young fund and needs to grow much stronger to keep Hinduism Today seaworthy no matter what winds may come.

Our goal
In 2009, we launched a project to increase the fund's principal by $100,000. When the goal is realized, grants to the editors will augment by $1,000 per quarter—a modest amount, but a good beginning, adequate to raise Hinduism Today to a new level of quality and effectiveness, and a step closer to financial independence.

Helping us reach our goal
We invite you to help us create an abundant and secure future for Hinduism Today, wherein it dispenses life-giving and life-saving information ever more generously. Please consider donating to the Production Fund. There can be no greater cause.
Meet our gracious Benefactors
A Benefactor of Hinduism Today is one who has donated $1000 or more to the Production Fund —as a gift outright, or by making the fund a beneficiary in his or her estate plan.
The Arun J. Mehta family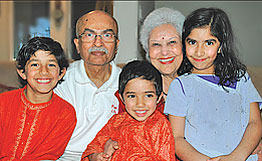 For decades, the Mehtas have taught Hinduism to children—with Hinduism Today as part of the team. "The magazine is rare among the media today. It presents Hinduism in a positive light and keeps the teachings pure. I am convinced it is our philosophy alone that can save this world."
--Dr. Arun J. Mehta, Vancouver, Canada
• More from Dr. Mehta & family
The Raghunath Lathi
& Alok Lathi families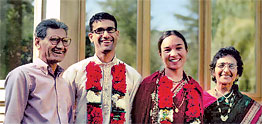 "Hinduism is the salvation of a human being. It is so vital. And Hinduism Today is doing so much, that supporting it is the least we can do."
--Ragunath Lathi, Las Cruces, New Mexico
• Read the Lathis' engaging story
• Meet our other benefactors and
read their inspired utterances.
Small increments are good
"Give 'til it hurts," some say. But we say, "Giving in a way that doesn't hurt is also good." Some of our donors give a monthly $100, $31 and even $16. Doesn't hurt, doesn't break the bank, but it does keep our curves going up. Contact us to discuss this possibility.
• donate online
• become a benefactor
• e-mail us
• or give us a call, 808-634-5407.