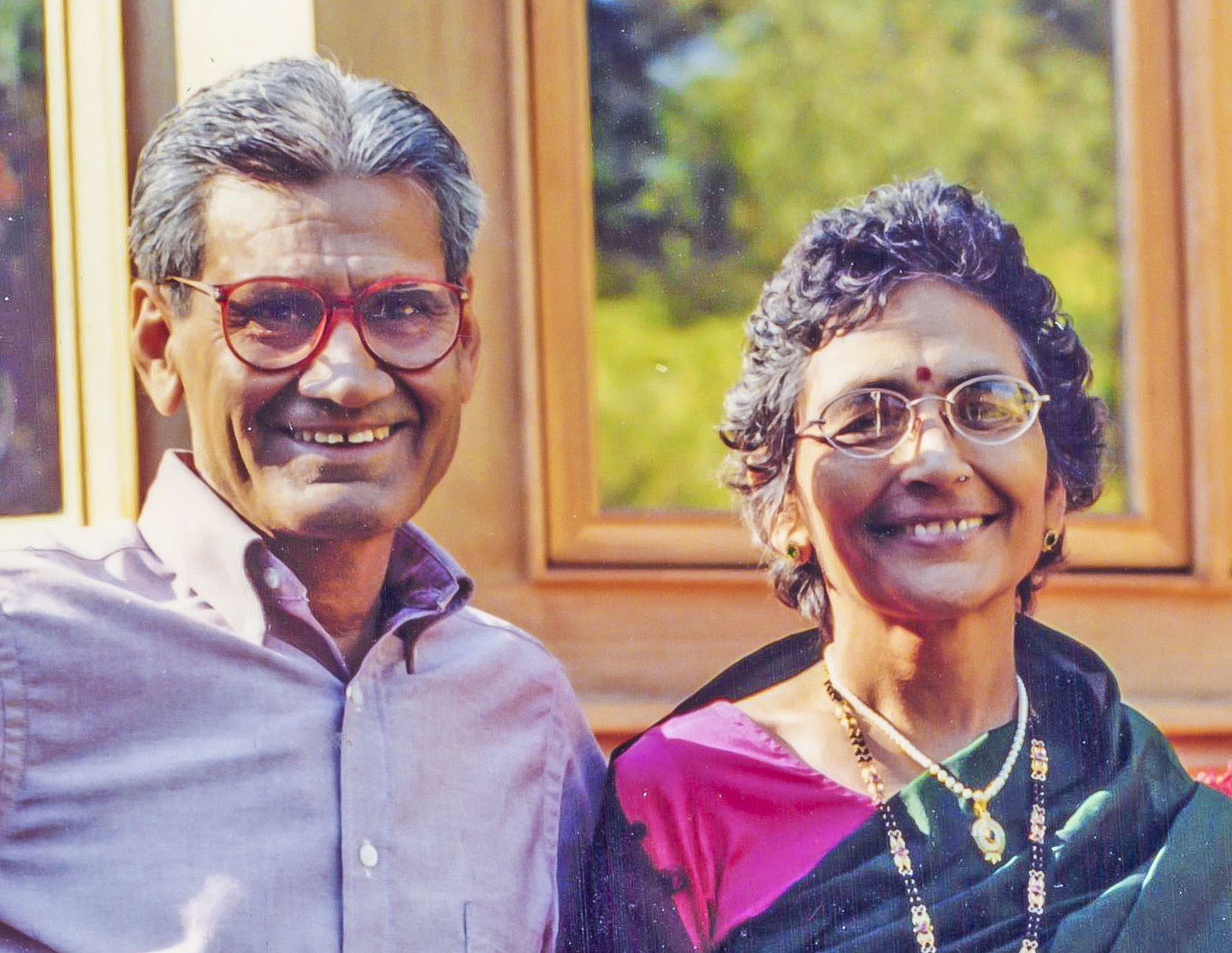 Raghunath P. Lathi in 2002, with late wife Bharati, whom he considers to have been a spiritual powerhouse and the very embodiment of selfless giving.
When we expressed appreciation to Raghunath P. Lathi of New Mexico for his generous support of Hinduism Today's Production Fund, he objected: "Please don't thank me. I have no choice. I've been fortunate all of my life, and I have to do all I can to help the less fortunate. "
Raghunath came from India to the USA in 1955, earned a Master's degree, then spent his life in a variety of personal enterprises. Now 80, he still runs his current real-estate business but plans to retire next year, live a simple life and dedicate himself full time to spiritual reading, sadhana­­ and doing what he loves most­—supporting charities.
"I'm not an activist," he explains, "or a leader type. Giving is how I help. What use is money if you don't use it to uplift those who really need it? Money is a power for wisdom and generosity. If it's not used that way, then it's worthless—in the long run, it'll be seen to be worthless.
"Closest to my heart are three societies that I will always support: the Hindu American Foundation because they are compassionate and dedicated to bringing us all together, the Ekal Vidyalaya who do so much to give India's children a chance to have a good life, and Hinduism Today because they are the strong and beautiful voice of Hinduism.
"Hinduism is the salvation of a man. It is the salvation of humanity. I read an article that said that India, of all countries, has overall been the softest, most understanding and forgiving. It's in our nature. 'Lokah samastah sukhino bhavantu,' let all the people of the world be happy. This is our constant prayer, and the heart of Hinduism.
"I have kept a copy of every issue of the magazine from the first I ever saw, around '92 or '93. I've read every one cover to cover, and I share them every chance I get. There is nothing to compare to Hinduism Today. Its creators deserve our support so they can, for a long, long time to come, continue the great job they do on our behalf."
Ask for our Planned Giving Toolkit by contacting one of our monastic staff at 1-888-464-1008 or hhe@hindu.org.
---
The vision.
The
Hinduism Today Production Fund
was created to enable the magazine to ever more effectively do what it does best:
uplift Hindus and Hinduism everywhere
.
HINDUISM TODAY is a quarterly journal, with both print and digital editions, produced by the monks of Kauai's Hindu Monastery as a public service, not to tell their own story, but to cover the people, events, philosophy and traditions of the broader Hindu world. The monastic staff also direct by e-mail a skilled international cadre of journalists, artists and photographers who help create this renowned magazine.
Grants from the Hinduism Today Production Fund create and support Hinduism Today's continued dedication to world-class journalism through advancing editorial capabilities and endowing production expenses. Examples are providing extra funds to cover the travel expenses and professional fees of a journalist and photographer producing an in-depth feature article and funding sending the monastic staff to conferences to keep up with the most recent developments in digital publishing.
The financial goal of the Hinduism Today Production Fund is to build principal to $5 million which will provide a monthly grant of approximately $16,700.
Kauai, Hawaii, USA
Fund #20
Read the latest news about this endowment from the April-May-June issue of HINDUISM TODAY
here
.
The fund is the engine that will drive the magazine and its satellite productions forward in the near and far futures. As it grows, it will provide the means to develop diversified and international teams of the very best reporters, photographers, artists, writers, designers, researchers, translators, and filmmakers. And, in order to keep up with technology's fast pace, Hinduism Today will need the services of consultants in whatever new fields arise that enhance communications.
We want to always be prepared to seize any meaningful opportunity.
In addition to enhancing contents and presentation, the fund will provide the means to expand Hinduism Today's reach towards Hindus and like-minded souls everywhere--via various languages, for example.
As young as it is, the fund already provides powerful support for significant projects (see below), and we marvel thinking of future possibilities, when the fund has grown big and strong. Our publisher, editors and staff plan and visualize far into the coming years and even decades. And all the dreams will depend on the Production Fund to become realities.
We share some of these dreams below--and we will continue to do so via our Production Fund newsletter (sign up for the newsletter here).
No doubt, it is going to be a beautiful story that unfolds with time, and we invite you to be a part of it.
2007: we reach our first milestone. In 2007, for the first time, earnings from our fledgling Production Fund had grown enough to finance a major project: an in-depth article on Hinduism in Malaysia (July-August-September 2008 issue) accompanied with a quality 3-part video .
2008: the fund supports vital projects. During 2008, the fund gradually grew more generous. It enabled editors and staff to expand into new and important territories such as:
Educating ourselves. Thanks to the fund, 2 of our editors were able to travel and hire teachers and consultants to gain critical proficiency in developing media of communication such as video and web design.


Educating the media. Responding to an appeal for help from various Hindu societies, Hinduism Today's editors created ready-for-press information sheets for 12 Hindu holidays, to be distributed to media outlets. The fund subsidizes part of the expenses.


Upgrading Hinduism Today's website. For over a year, our editors have worked closely with a world-class web designer to bring our site up to the highest standards so the numerous resources it offers are more easily and pleasantly available. Updates will be unveiled soon, and all costs are covered by the fund.


Many videos. With the help of accomplished professionals, the Hinduism Today staff has already produced about 80 quality videos as of September 1, 2009, now posted on YouTube. Many more are coming, and the fund is covering all the costs.


2009 and beyond. First, let's go back to 2006, when the editors seized a great opportunity: to publish an online digital edition of Hinduism Today. After several years of intense planning, help from the Production Fund, and some financial wizardry, they not only produced it, they were able to offer it to the world free of charge! It has been a great success, bringing Hinduism's marvels to thousands of new readers in some 100 countries--each issue made even more brilliant with imbedded goodies such as multimedia, search features, access to back issues and more. And being free, it reaches souls who could not otherwise afford to acquire the precious knowledge. (You may download the digital edition from here--and so can your friends and relatives anywhere in the world.)
And today, the digital edition itself presents us with a number of new and enticing opportunities, notably that of translations. Perhaps like nothing else, translated editions will expand Hinduism Today's reach dramatically. The demand is great; we receive requests every day. And, once we have a translation for a given issue, it can be instantaneously produced and distributed. You simply paste it into that issue's existing digital layout, post it onto the web and zip, the whole world has access!
Even as you read this, a number of professional translators sit at their keyboards waiting for our signal. And we, of course, we are just waiting for the Production Fund to become strong enough to allow us to hire them.
Do we feel that your donation to the Production Fund will be meaningful? Yes, indeed, that is what we feel.
March, 2009: a question arises.
How may we--within a short time--
bring financial relief to our Hinduism Today staff
so as to give them wings to soar even higher?
In response, the (monastic) managers of Hindu Heritage Endowment launched a special fund-raising project within the Production Fund. The objective is for the fund to augment by $1,000 the monies available to the editors for the production of each issue.
A modest but significant increase, that will enable our magazine to evolve much further.
In order to be able to grant $1000 quarterly, or $4000 per year, the fund needs to grow its principal by $100,000. By January 1, 2013, we had reached $90,000. Please help us reach our goal soon. Contact us.
Becoming a Benefactor of Hinduism Today. If you are keen to give an added moral boost to the Production Fund while giving financial support, please consider becoming a Benefactor of Hinduism Today.
One becomes a Benefactor simply by donating $1000 or more to the Fund as a gift outright or by making the fund a beneficiary in one's estate plan by the same amount. Learn more about becoming a Benefactor.