Hinduism Today Production Fund Newsletter
Hinduism Today fills in a glaring gap
While this never-before-seen event was quietly going on, the Western (and perhaps worldwide) media were busy ignoring it. Instead, they focused on negative stories about the Indian election, trashing all things Hindu and Indian. Nowhere to be seen was the Khumbh Mela, this world-sized inspired event, this amazing show of humanity, dignity and cooperation.

Nary a word.

Hinduism Today has always been apolitical, but in this case we asked Pandit Vamadeva Shastri (Dr. David Frawley) to shed some light on this phenomenon . He responded with brilliant and encouraging insights (see page 13 of our July-August-September 2019 issue.)

But Hinduism Today did cover the event with an accurate and well-deserved glowing report—something all Hindus and the world needed to know. Here is a clear instance of Hinduism Today fulfilling its purpose and mission, and a reason why it is vital that it continue to exist and publish: "to dispel myths, illusions and misinformation about Hinduism" (mission statement) and to proclaim what Hinduism really does stand for and is actually doing.

Once again, we thank you who understand and have supported the magazine. Om.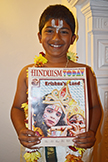 A short video that explains a few of the essentials of financial & estate planning

A 101-second video that explains the three types of endowments