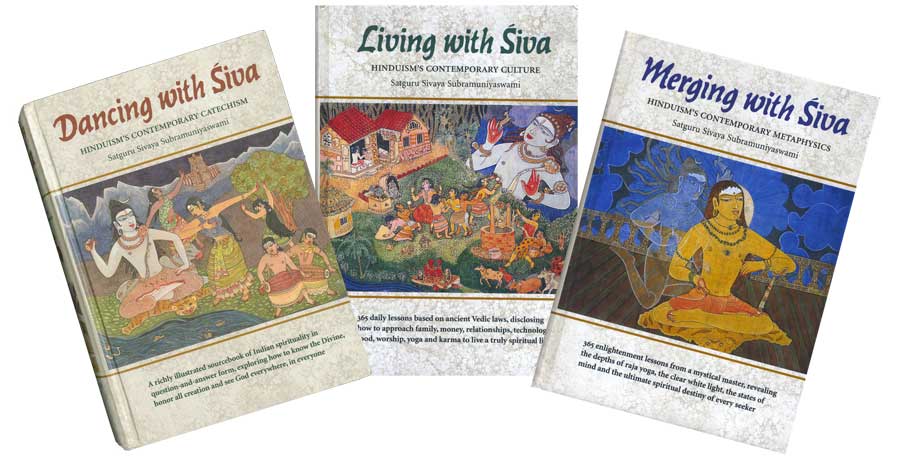 There is no better way to understand the teachings of Satguru Sivaya Subramuniyaswami than by studying the three books that comprise The Master Course Trilogy. Completed in 2001, after two decades of effort, Gurudeva's The Master Course Trilogy emerged in its final form as three textbooks, Dancing with Siva, Living with Siva and Merging with Siva, each with 1,000 or more pages of information, insight and sadhanas. The Master Course trilogy is a detailed summary and explanation of ashtanga yoga according to the traditions of Gurudeva's lineage, the Nandinatha Sampradaya's Kailasa Parampara. Ashtanga yoga, also called raja yoga, has eight successive steps, each one dependent upon the one that precedes it.
Often the uninformed prefer to start on their spiritual path at steps seven and eight, ignoring the other six, and more than often wonder why no immediate and lasting results are obtained. Drawing upon over half a century of teaching and explaining, the trilogy articulates in no uncertain terms why you must begin at the beginning, with a firm foundation of philosophical clarity and good character, and proceed from there.
The Guru Chronicles is a detailed biography of Satguru Sivaya Subramuniyaswami as well as information on the gurus of the Kailasa Guru Parampara who preceded him. It is an excellent complement to The Master Course Trilogy.
The Gurudeva Trilogy Distribution Fund provides free distribution of The Master Course Trilogy and The Guru Chronicles. The original name of this fund was the "Hindu Businessmen's Association Trust."
Fund #5.
Kauai, Hawaii, USA