Hinduism Today Complimentary Subscription Fund and
Hinduism Today Production Fund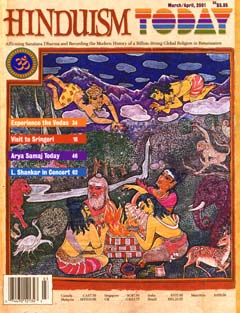 There are two endowment funds that provide vital support to Hinduism Today.
1. The Hinduism Today Complimentary Subscription Fund enables editors to send the magazine on an ongoing basis and at no charge to various influential and deserving people and institutions throughout the world such as swamis and other Hindu spiritual leaders, social workers, politicians, key figures in the media, teachers, scholars, libraries, ashrams, yoga schools, cultural or educational institutions, temples and more.
2. The Hinduism Today Production Fund enables present Hinduism Today editors, and will enable future ones, to produce an ever more potent magazine and dramatically extend its reach--through various media and languages for example. As the fund grows, it will subsidize the magazine's hiring of the world's finest photographers, writers, artists, designers, reporters, researchers, translators, filmmakers, and consultants in various fields, especially that of digital technology. Thanks to the kind and visionary souls who support the Fund, Hinduism Today will find itself more and more in a position to take advantage of all avenues available to disseminate precious Hindu teachings as widely as possible, and respond massively to every new opportunity the future may bring.

---
The two funds described above were established within Hindu Heritage Endowment to sustain the work of
Hinduism Today
through the years, decades and even centuries. They also stand as an opportunity for inspired souls to participate in that work. By donating to one or the other of the funds you will be helping Hinduism Today disseminate the truths of Sanatana Dharma in a most powerful way. Any gift you make, small or large, will grow through the years and uplift souls generation after generation. .
All contributions to these funds are tax-deductible in the USA.